Open Championship 1931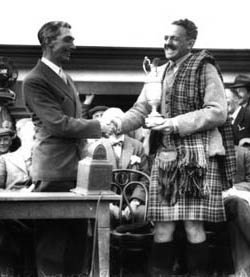 The following year, Tommy made a triumphant return to his city of birth, Edinburgh, when the Open was held in nearby Carnoustie. After three rounds, the unlikely leader was Argentinean Jose Jurado. His closest challenger was pre-tournament favourite Mac Smith with Tommy a distant third, five shots back. In the event, Armour shot 71 then sat sipping whisky in the clubhouse as first Jurado, then Smith were destroyed by the closing three holes. Then, as now, the toughest finishing stretch in the majors decided the champion.
Jurado was particularly devastated at the manner in which he lost, shooting double bogey, bogey, bogey to lose by a single shot. A popular character, Jurado's gallery included HRH the Prince of Wales who was taking lessons from the dapper Argentinean. The Scotsman newspaper described Jose's reaction: "Jurado, a dazed man, went through the crowd and into the room reserved for the players behind the first tee, broke down completely and cried like a child."
Armour still didn't believe he would win as Mac Smith was now leading by two shots. However, the tragic Smith was similarly undone and dropped six shots over the final three holes to let the title slip to Armour, who told reporters: "I've never lived through such an hour before." In the era before the Masters, Armour had become only the third man in history to win all three Majors.
Early Retirement
In 1933, at the US Open at North Shore Country Club, Tommy set another record during the first round by opening up a five-shot lead, the biggest ever. Unfortunately, he recorded another record on top of that – the highest non-winning 18-hole lead in US Open history – when he let the title slip through his hands. The eventual winner was Johnny Goodman, who remains to this day the last amateur to win a Major.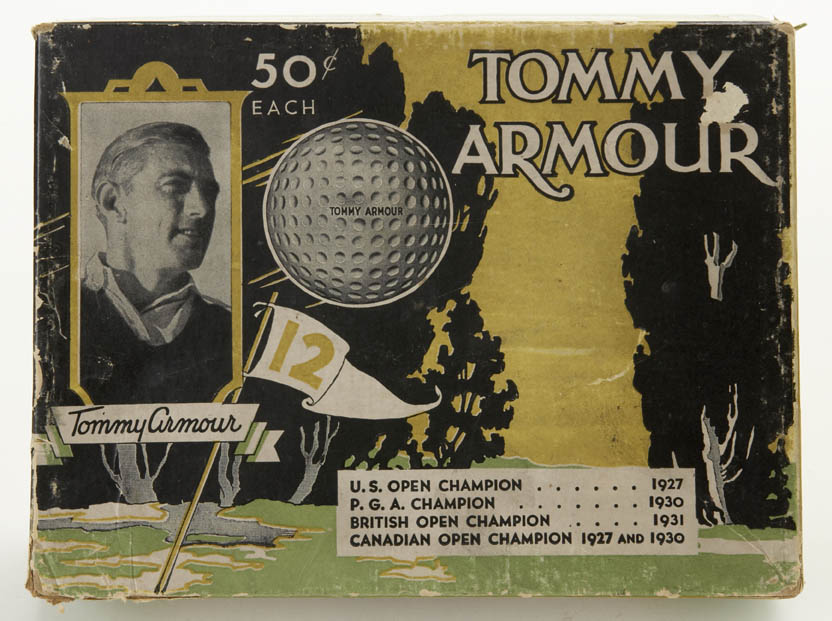 Armour's putting issues were compounded by yips when chipping and, despite getting to the final of the PGA in 1935 (losing 5&4 to Johnny Revolta), he didn't play much after that year. He won another PGA tournament in 1938, and had a couple of runs in Majors, but he was to all intents and purposes semi-retired. It is perhaps fanciful to think that he looked at the example of his former fierce rival Bobby Jones quitting while on top and decided it wasn't worth the stress and pain. But regardless, still in his thirties, he had decided enough was enough.
Instead he started on another lucrative tour, giving lectures all over the country. It was during this time that he met Estelle, his second wife. Unfortunately he was still married to his first wife at the time and a messy divorce followed.
Talking for a living was a natural move for Tommy. Byron Nelson once said that Armour was "absolutely the most gifted story-teller I've ever known in golf. He could take the worst story you ever heard and make it great." Later, Tommy put this to use during the Second World War, touring army hospitals and raising the spirits of the troops with his dazzling tales. However, given his own wartime memories he found the experience extremely depressing.
In 1936 Tommy was hired by the Macgregor golf company. To many, it looked like a "front man" role, but in fact he became deeply involved in designing their clubs. His innovations transformed Macgregor's fortunes and his drivers became their bestsellers. Later he created his own manufacturing company and his name is still on clubs sold today.
Pages
Click here to see the published article.