Byron Nelson has a strong claim to being the greatest golfer who ever lived. Even in this Tiger-dominated era, his record from 1945 looks unbeatable. In what was a curtailed season, "Lord" Byron won 18 PGA events – including 11 in a row – and finished second on 11 occasions. One of those wins, it should be noted, was the USPGA Championship, which was the only major to be played that year. His scoring average for the season was a mind-boggling 68.33, a record that stood until only nine years ago when Tiger – who else? – had the chutzpa to beat it on his way to winning three majors and nine regular PGA events in 2000. But perhaps more tellingly, Nelson's final round stroke average was a miserly 67.45 – and, even more incredibly, his average margin of victory was over seven strokes.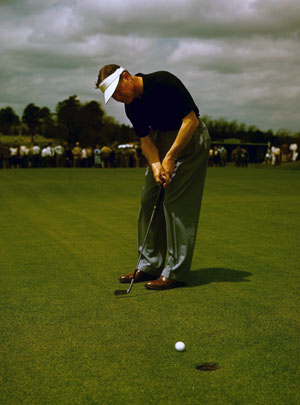 But it was his first major win, at the Masters in 1937, that he remembered most fondly. After firing a "perfect" 66 in the first round – Nelson hit every green in regulation and would later describe it as the best of his career – the softly spoken Nelson entered the final day some way back of fellow Texan Ralph Guldahl. A very fine player in his own right, Guldahl would go on to win three majors, including the US Open the very next year when, amongst other things, he became the last major champion to wear a necktie on the course.
Trailing Guldahl by three shots after the long par-4 11th on that final day, Nelson proceeded to complete the next two holes in only five strokes. A neat 6-iron at the famous par-3 12th ("Golden Bell") set up a birdie, which was then followed by a majestic 3-wood that cleared Rae's Creek at the par-5 13th ("Azalea"). Twenty feet from the pin in two, Nelson, knowing Guldahl was struggling, then chipped in for a an eagle three – which gave him the lead and effectively sealed his maiden major win.
"Was I rewarded for my 'courage?' I don't know about that," said Nelson referring to second shot on the 13th many years later. "But I was blessed to chip in for eagle, and just like that, I was up on Ralph. I made par on number 14, three-putted for par on the 15th, where he birdied. We both made pars the rest of the way, and I won by two strokes with 32 for the back nine. I shot 70, Ralph 76. For the first time in my career, I felt my game could handle pressure situations."
From 1944 to 1946 Nelson played in 75 events and finished outside the top-10 only once. Retiring at the peak of his career in 1946, at the age of 34, he won a total of 54 PGA tournaments and five major championships. Nelson died in September 2006, but his legend remains.
 
Click here to see the published article.