1927 US Open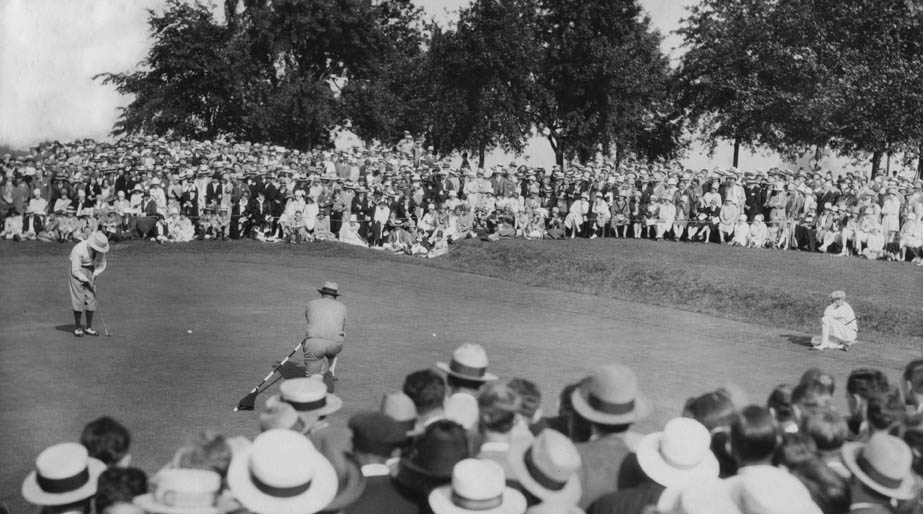 Oakmont in 1927 was brutal, the first example of what we would today call a classic US Open course. Former champion Ted Ray couldn't cope with the slick greens, Hagan was destroyed by the 300 bunkers, everyone was beaten up by the fiendish rough. In the event the course gave up only a single round under par over the 5 days of play, making it the joint toughest US Open course ever, bar one – Brae Burn in 1919. That single round? Armour, with a stunning 71 on the second day.
Tommy had scored a 78 on the first day – which remains the highest first round score by a winner since the nineteenth century. However, over the four days, only one man had seemingly held himself together consistently – Harry "Lighthorse" Cooper, who had finished with a total of 301.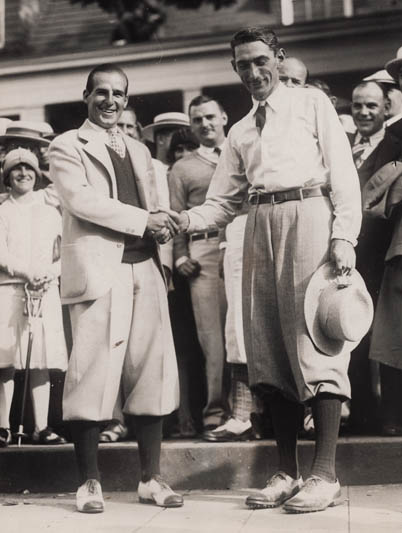 Coming off a double bogey at the longest hole in US Open history at the time – the interminable 621 yard twelfth (still the sixth longest ever) – Tommy stood on the thirteenth tee knowing he needed to play the last six holes in one under par to match Cooper. He also knew that the previous day, reigning US Open Champion Bobby Jones had stood on the same tee with a share of the lead and then played the next four holes in seven over to watch his title slip away.
Armour started grinding, scoring par after par for the next five holes, until he stood on the eighteenth, knowing he needed a birdie to tie. Unbelievably, he hit his drive 250 yards down the middle, and then knocked in a three-iron to eleven feet. With the boisterous crowd willing him on, he stroked in the birdie to force an eighteen-hole playoff.
Cooper had been sitting in the clubhouse for over an hour seemingly untouchable. The following day, a huge crowd again willed Tommy to glory, having for some reason taken a dislike to Cooper. It was felt that the locals appreciated Armour's humility, whereas Cooper was seen as brash and was nicknamed "Cocksure Cooper" and "Chesty Harry". Speed of play would be a factor as Cooper was the fastest player on Tour, hence the "Lighthorse" nickname. In Armour he was competing against the most deliberate player in the game and his languid pace became glacial on Oakmont's unforgiving track. In the event the Tortoise and Hare tale played out perfectly, with Cooper racing to a two-shot lead after eleven holes, only to take 27 shots over the final six holes as Armour again played brilliantly, requiring only 22 strokes to win by three. Holing enormous putts along the way, Armour's prowess with the putter was surely payback for all those missed chances after the war.
As The Scotsman newspaper reported: "It was emphatically an Armour gallery. Everybody in that huge crowd was neutral - they didn't care how many strokes Armour won by."
Pages
Click here to see the published article.