The Great War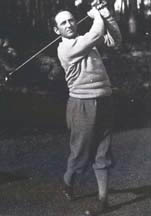 He joined the army at the outbreak of war in 1914. Starting in the Black Watch, he became famous as the fastest machine gunner in the British Army. Armour then appropriately joined the newly created Tank Corps, where he rose to the rank of Staff Major, one of the youngest in the army. Diminutive future PGA star and lifelong friend Bobby Cruikshank served alongside Tommy in France and later told several tales about Armour, the most famous being how he captured a German tank single- handedly, including strangling the German tank commander with his bare hands when he refused to surrender. He won several bravery awards and, in a foretaste of his later mixing
with the great and good, Tommy's heroics earned him an audience with King George V. Soon afterwards however, he was incapacitated when his tank was shelled with mustard gas in a desperate action in France.
In hospital, another metal plate was used to reconstruct his left arm, and he gradually regained sight in his right eye. However, he would remain blind in his left eye for the rest of his life.
Pages
Click here to see the published article.