7          Sergio Garcia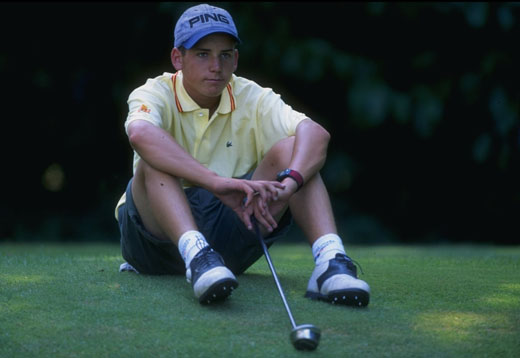 His wunderkind credentials include his early nickname, "El Nino", which means the golden boy (in his native Spain it's a term for the Christ-child). Sergio started playing when he was three years old, and won his first adult tournament aged 12. In 1995, aged 15, he became the youngest player to win the European Amateur and also became the youngest player to make a cut on the European tour. This record stood until it was broken by Hong Kong's own Jason Hak in 2008 (see below).
            Garcia turned professional in 1997 and became a media star overnight when he narrowly lost in a duel with Tiger Woods for the PGA Championship at Medinah two years later. His miraculous recovery shot from behind a tree at the sixteenth hole in the final round of the event remains one of the championship's greatest ever.
            Also in 1999 he became the youngest player to play in the Ryder Cup and his record in the biennial team event is exceptional. Garcia is currently saddled with the dreaded "Best Player to Never Win a Major" tag, with 15 top-10 finishes. While he has consistently some of the best ballstriking stats on the PGA Tour, he also has some of the worst when it comes to putting. When his flatstick is working, he is almost unbeatable; but it remains his achilles heel.
            A joy to watch when he is happy and playing well, he is a miserable piece of work when things aren't going his way. From spitting in the hole at a PGA Tour event a couple of years ago to muttering about bad luck and conspiracies, he is also known as "Surly Sergio" among golf followers. As with many intuitive players his emotional style of play is both his biggest strength and his core weakness.
HK Golfer PR: El Nino is still a relatively young man, and (major wins aside) has been hugely successful on tour. A true prodigy.

Pages
Click here to see the published article.