6          Ryo Ishikawa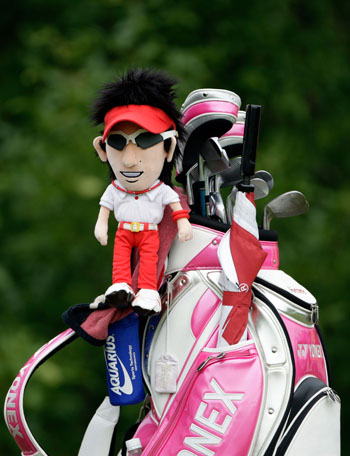 There was much hilarity in the TV commentary box at Turnberry when a young player arrived on the first tee with club head covers that were based on his own likeness. It got worse when close-up cameras revealed his own face with beaming grin was on each of his golf balls. Quite ironic for someone whose nickname is "Hanikami Oji" aka the bashful prince.  
            The young man was 17-year-old Ryo Ishikawa, and he was in Tiger Woods' group, having qualified by winning the Yomiuri Classic in Japan – his fourth win on that tour. What sets Ishikawa apart is that he won his first tournament as an amateur, aged 15, and three more since turning pro aged 16. He is by far and away the hottest property on the Japan Tour and its most marketable personality. Upwards of 100 members of the press flew in to cover his exploits at the Open. One could be kind and say he matched Woods stroke-for-stroke. Unkindly, that meant they both missed the cut.
            Cynicism aside, Ryo is one of the very few phenoms who is more than a one-hit wonder, and his achievements to date are very impressive indeed.




HK Golfer PR: A genuinely exciting prospect and a real prodigy.

Pages
Click here to see the published article.