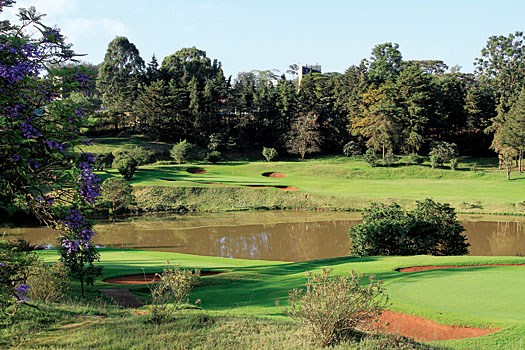 One of the most memorable moments occurs as our jeep is hurtling through the scrubby landscape of the savannah as its human cargo chat merrily about misplaced crushes on television wildlife presenters and attempt to remember the right words to the song Circle of Life in The Lion King. All of a sudden, Bas, our driver, cuts the engine, turns sharply to face us and places a finger to his lips. Suddenly the light-hearted bonhomie has been replaced by a palpable sense of tension and excitement.
It is the second and final day of our safari in the Mara, and although we have witnessed everything from marauding black rhinos to a herd of elephants ambling towards the border with Tanzania at sunset, we've not yet been blessed with the sight we have all been silently (and not so silently) craving: a prolonged glimpse of one of the park's big cats. But all this is about to change.
Our eyes follow the gaze of Bas, our guide, to a disturbance in a bush around 200 metres to the left of the track. "Leopards," he hisses, and instructs the driver to move us towards the action.
What follows is nothing short of amazing. As we draw closer, the indistinct tableau sharpens into a scene that would have David Attenborough himself grasping for superlatives. Prone in the thick grass, a dead zebra is providing lunch for a trio of the sleek, spotted predators. According to Bas, an individual cheetah does not have the wherewithal to take on a zebra - gazelles and impalas are their normal victims - so this has obviously been a group effort. This is nature in the raw and boy is it exciting.
Pages
Click here to see the published article.