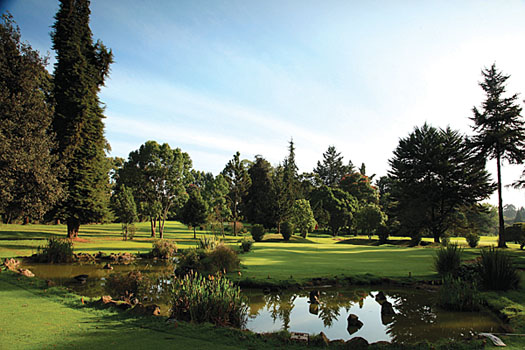 "Slow your swing down mzungu, there's no need to rush," urges Nathaniel, my caddie, as I watch my third drive of the morning at Nairobi's Muthaiga Golf Club assume an unfortunate leftward trajectory and sail towards a towering stand of trees. Maybe it is pent up tension from being stuck in the nasty traffic that curses Kenya's capital, or perhaps the undue haste is an over-stimulated by-product of being in Africa to play golf, but my game and general mindset is in stark contrast to the bucolic surrounds.
Of course, Kenya is a country replete with all kinds of marauding beasts. In fact, we will see plenty of them during an epic two-day safari in the world-famous Masai Mara reserve. For now, however, the local caddies - most of whom, it seems, boast of single figure handicaps - are both amused and bemused by the sight of a burly Scottish visitor going through numerous shades of angst and joy as his golf game veers from the competent to the catastrophic.
My amateur thrashings are, it has to be said, mostly due to an inherent lack of skill. Nevertheless, nobody should doubt the veracity of the challenge offered by Kenya's golf offerings. Take Muthaiga for instance. Sprawled over a rolling chunk of land to the north of Nairobi, it can trace its roots back to 1913. The Kenyan Open was held here for over thirty years and during that period the tournament was won by three future Masters champions - Seve Ballesteros, Ian Woosnam and Trevor Immelman. A slightly laissez faire approach to all-round maintenance (although the greens are excellent) means that Muthaiga is no Augusta National, but lack of manicuring aside, it makes an excellent curtain-raiser for a six-day golf and safari odyssey in the East African country.
Although Kenya is far better known for its safari options than its selection of golf courses, it should not be discounted as a destination for holiday golf. Indeed, a combination of truly world-class game spotting opportunities and accommodation and better-than-average, value-for-money play, makes the country a highly intriguing prospect for intrepid golfers.
Pages
Click here to see the published article.