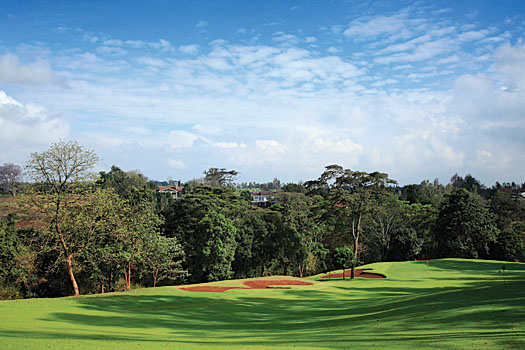 The next day an encounter with a group of black rhinos warms us up in the frigid morning air, but the next few hours are marked by frustration. At one point the tension is ratcheted up as Bas spots some lion tracks, but the trail runs cold. Later, at a water hole, we spot a hippo's back, but it submerges into the muddy depths before our cameras have even been drawn to shoot. Even the savannah staples are starting to pale. "Look," cries Bas, pointing towards an indistinct shape in the distance. "Not another bloody impala," mutters one of my companions. Sensing the disappointment, Bas reminds us of some home truths. "This is nature," he says. "It doesn't always put on a show." Luckily for us, it proceeds to do just that.
Back in Nairobi, following a thrilling journey in a miniscule Cessna craft, there's time for one last round of golf, this time at Karen Country Club, the current home of the Kenya Open. Routed over the former coffee plantation of Out of Africa author, Karen Blixen, the layout is another undulating beauty. By this time, I am suitably relaxed and put on a decent show with a birdie at the closing hole - a stunning par-5 with a tricky approach over water to a raised green - allowing me to toast a job reasonably well done.
A waiter brings me a giant bottle of ice-cold beer. The leopards may have stolen the show on safari, but the Tuskers take a lot of beating at the end of another gilded African day.
Pages
Click here to see the published article.