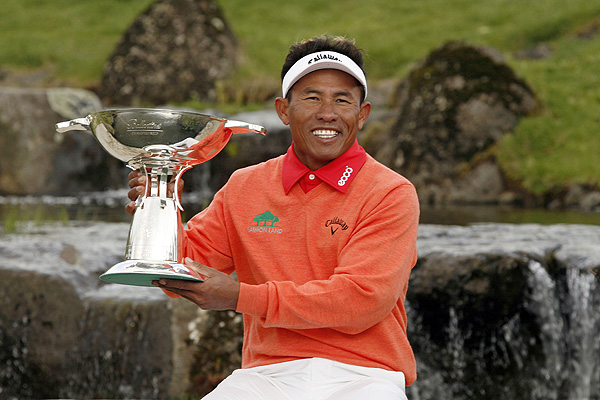 HKG: You've just returned from the European Masters at Crans in Switzerland. That looks like a beautiful course. Is it your favourite?
TJ: You know, I was hitting it further than anyone there. I don't know why. Maybe the height. But I was longer, for sure. I did OK and I enjoyed it. My favourite course? I really like The Belfry in England. That's really nice. A really good golf course. That's probably my favourite.
HKG: The Belfry? Really? You play all around the world and The Belfry – the one near Birmingham in England – is your favourite? You've played all four majors remember ...
TJ: Yeah. Really nice last hole. Good greens. I like playing there a lot. And the 10th – a nice, short par-four. I can reach it with a three-wood, maybe a two-iron.
HKG: [nigh on incredulous] OK. So what are your goals for 2012? You're surely due a win ... the last one was the Ballantine's Championship in 2009.
TJ: Once my back better I will do better too. Personally, I want to play in the Masters again [Thongchai became the first Thai golfer to play at Augusta when he achieved the feat in 2006]. And of course I want to win again. It's not that easy, you know [laughs].
HKG: Unlike the vast majority of pros today, you had a job during your amateur days: jumping out of helicopters on behalf of the Thai Army! Has that helped you in any way as far as your career is concerned?
TJ: Definitely. In those days I would be training in the seaside, the jungle, the mountains ... wherever. I was carrying 30-40kg on my back and running – not walking – but running all day. All day! It was hard. It was really hard. But the most important thing is that it made me mentally tough. In the Army, there is no schedule. You don't know what you're going to have to do that day, and that helped me control my emotions. It really helped me mentally. As a pro, we all get angry if we duff a chip or whatever, but I'm able to control any mistakes I make as a result. Being in the Army has helped me with controlling my feelings.
HKG: And helped you with your fitness, too, presumably?
TJ: Of course. I go to the gym for two and a half hours a day – and even when I was injured, I was still running every evening. Golf has changed. You have to be fit. It looks easy [doing what we do] but it isn't. Playing golf, travelling every week – you have to be fit, otherwise you are at a big disadvantage. It can be hard.
Pages
Click here to see the published article.