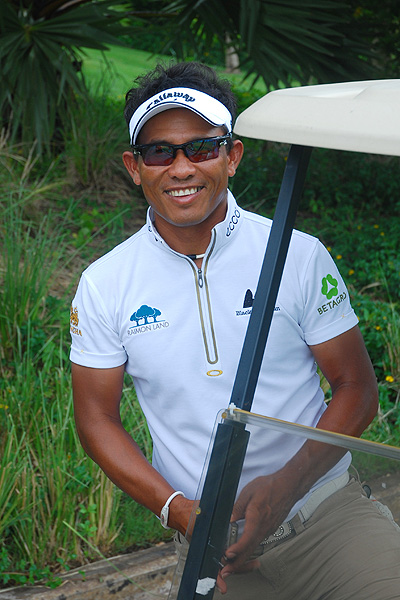 The first thing you notice about Thongchai Jaidee is how ridiculously fit he is. The Thai – and former Asian – number one carries not an ounce of fat on him. Although he stands only five-foot-seven, Thongchai, who is approaching his 42nd birthday, is certainly not the type of chap you'd fancy arm-wrestling with the night's bar bill on the line. But then again, this former Army paratrooper has had a habit of surprising people over the course of his brilliant career.
For this interview, I met Thongchai for a few holes at the immaculate Amata Spring Golf Club in Chonburi, a 90-minute drive from Bangkok, where my subject featured prominently in winning the Royal Trophy for Asia against Europe in 2009. He is, I quickly realised, in jovial mood.
"Nice shoes, man," he laughs, in reference to my brand-new pair of sensationally comfortable and (for me) stylish Ecco BIOM golf shoes. The Danish footwear brand –one of Thongchai's sponsors – has helped set up my meeting with Thonghai – and has kindly provided me with a suitably refined pair of spikes for the occasion. "I wear the same model when I practice in Asia, but when I'm on tour I need something a bit more solid for when it rains," he adds, pointing to his own robust-looking golf shoes. "You know – it can really rain heavily on the European Tour."
I come from Europe and I do indeed know this – all too well, sadly. But what I didn't know was Thongchai's far better-than-average grasp of the English language. Since winning the 2004 Malaysian Open, a co-sanctioned European and Asian Tour event, Thongchai has plied his trade on both circuits, and has clearly learned a lot more along the way than simply putting the ball in the hole.
We tee off on the 10th, a mid-length par four, and – thank you, God – I manage to hit a decent drive with a touch of fade down the right side of the fairway.
"Just like Monty," yells Thongchai , clearly delighted. I'm delighted too. Good old Thongchai, I think. He recognises a nice little fairway-finding cut when he sees one. WRONG!
Thongchai is pointing at my stomach, which I have to admit has become rather more rounded since marriage. "Just like Monty," he repeats, barely able to contain his laughter, before adding, "same huge shape." He then rips one 290 down the middle – his swing is breathtakingly effortless – and we're on our way.
Pages
Click here to see the published article.