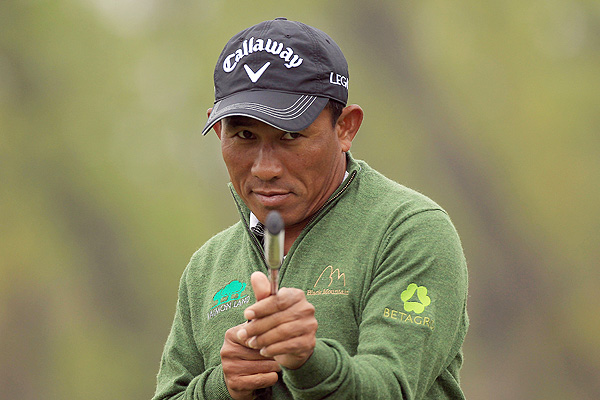 HKG: [a little peeved] Monty's a terror, isn't he? Difficult to play with?
TJ: [laughs]. I've played with him a lot – we used to get paired together all the time, especially in Asia when he was number one in Europe. But no, I really enjoy playing with him. He's a great guy. He hits it so straight it's crazy. But I like playing with Monty. I learned a lot just watching him play, even though I was longer. But that's not as important in golf as accuracy. He was definitely the best at that.
HKG: But is Monty the best ever? You've played with Tiger Woods, Rory McIlroy, Lee Westwood ...
TJ: They're all brilliant players. Rory is so young and such a great player ... he's so long, too. Westwood is very solid. Like Monty he doesn't make many mistakes, but he's longer and just as impressive. Tiger ... well, I realised how good Tiger was when I played with him years ago. And I've played with him a few times since then as well. The way he hits the ball – the distance, even with his three-wood, is amazing. But he's also a great putter. The first time I played with him I really couldn't believe it. Everything about his game is perfect. It has to be Tiger.
HKG: Can Tiger be as good as he was again? He's half Thai, so maybe he is less guarded with you than others?
TJ: I think Tiger will win everything next year. He did a bad thing and he knows it. But it will take time [for him to get back to his best]. He's a very nice guy – I like him a lot – but I think there is nobody better. He needs time. Once he's recovered from his injury he'll be great again. Definitely.
HKG: You've been injured recently too. How's the back?
TJ: It's better. I had a nerve problem in my back and I had to change my swing a little bit because of that, but I feel OK. Once it recovers fully – I'm probably around 90 per cent at the moment – I will be better. I'm now outside the top 100 in the world rankings, but that's OK. I'm enjoying my life. I'm 42 this year, so that's alright. But I will be better next year.
HKG: How would you compare playing on the European Tour to the Asian Tour?
TJ: The tours are very different. The European Tour is a different level. The grasses are different, the weather is different – as you know it can be four seasons in one hour over there. But it seems like the greens are all the same – the same surface. Nice bent grass everywhere. That makes it nice to putt on. But the quality of golf is definitely better. I've learned a lot over there.
HKG: Talking of putting, I notice you're using a belly putter. Isn't that cheating a little?
TJ: No! I heard they may ban it, but let's see. But I hold it like a normal putter. This year I have used a short putter, belly putter, short putter, belly putter ... I'm trying everything to hole a putt! When I use the long putter it helps me to be slower on the backstroke. I think that helps me. Now I'm a bit more smooth. But I may use the short putter next week.
Pages
Click here to see the published article.