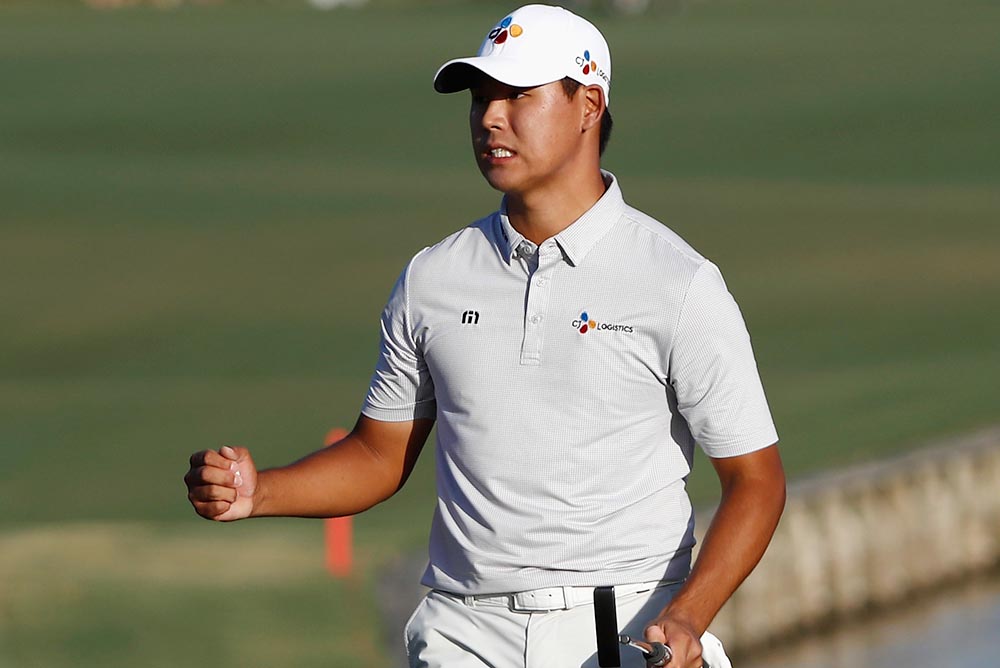 Nostalgia litters the champions' dining room at TPC Sawgrass, where framed portraits of Si Woo Kim adorn dark wood walls and mementoes of his highest achievement sit proudly atop mantelpieces.

Fond memories of the 22-year-old's triumph at THE PLAYERS Championship remain fresh inside the doors to this exclusive room, not far from the Stadium Course, where he won the event in stunning fashion last May. The memories all came rushing back to the South Korean when he returned earlier this spring to the site of his win.
"It's my first time (coming back) since lifting up the trophy last year," he said. "Coming back to this course has been so amazing. To see my pictures up on the wall, to drive up to this course, it brings back a lot of memories."
Kim was the youngest winner in PLAYERS' history when he captured the 2017 event at age 21. But he doesn't look much like a pupil these days. He's back at the Ponte Vedra Beach, Florida, on this day to unveil his signature TPC Sawgrass menu item - Korean barbeque short ribs - and donate his championship-winning driver to the club, alongside other past winners' clubs like Jack Nicklaus, Phil Mickelson and Tiger Woods.
Now, the two-time PGA TOUR winner looks every bit the part of a seasoned veteran.  "My first win at (2016) Wyndham (Championship), I was actually very nervous, because I didn't have any experience winning," he recalled. "But entering PLAYERS, I was going for my second win, so I felt a little more comfortable in that sense. But going into that season, I was battling back injury, and I was feeling nervous just being at the fifth major."
That nagging back injury was merely one part of Kim's challenging adjustment to life on the PGA TOUR.
The Seoul, South Korea, native not only struggled to get accustomed to everyday life in the United States. He also had to re-earn his TOUR card after missing the cut in each of his first six starts in 2013 - which came after he already deferred his debut for six months because he wasn't yet old enough to compete (the PGA TOUR has a minimum membership age limit of 18 years old, and Kim earned his card at 2012's qualifying school at just 17 years, five months). Add in that recurring back problem last season - which plagued him not only during his PLAYERS win but in the weeks that followed - and it's evident his early years on TOUR have been anything but easy.
"I think coming to the States, and living in the States, has helped me really mature as a person," he said. "The first couple of years I had a really hard time adjusting. I was really lonely a lot of the time, but I think living here and fighting through that has helped me really mature and grow as a person.
"I think the food was a tough part for me, and also transportation," he added. "In Korea, when you're done (playing) you drive, but here, since the country is so big, you have to fly everywhere. So, for me, that was really difficult, and just not having a lot of friends here."
Pages
Click here to see the published article.