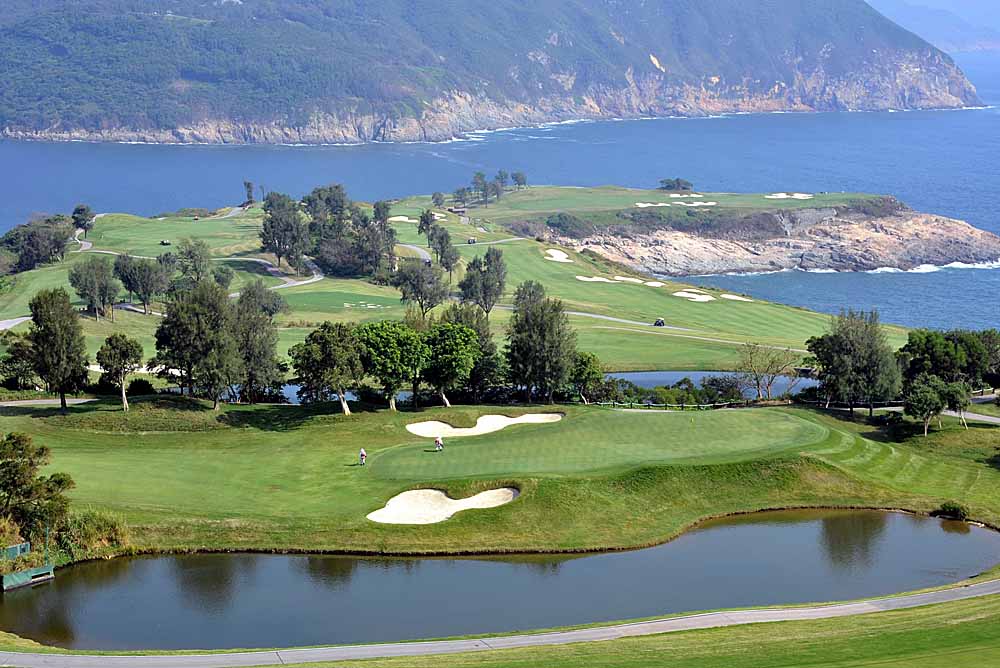 Having lunch in the splendid clubhouse at Bangkok's Thai Country Club will also go down as a highlight. Furthermore, the course there is certainly one of the best maintained. It has an all-round good feeling about it and worth a visit. Also, how can I forget sitting on the porch of the colonial clubhouse at Royal Colombo Golf Club in Sri Lanka? It bought back memories of my upbringing in Africa. I could not help myself but I had to have half a loaf of bread – with jam – to go with my many cups of Ceylon tea. The course is something of an artefact with an active rail line crossing some of the holes and some of the biggest trees I have ever seen with canopy spans nearing thirty yards. It is such a character-packed course – even if the design is poor – and provides a wonderful sense of place.
I was pleasantly surprised by Tanah Merah Country Club in Singapore. Sure, some of the landscaping has been overdone, including the massive waterfall fronting the clubhouse, but overall it is well thought out from a design perspective and provides great interest, particularly in terms of the ground contouring that dominate so much of the play areas. Ground contours are such a powerful design and engineering feature, especially where they help move water off the play surfaces. It is unfortunate that so few golf courses throughout Asia are limited in this regard. Add to this, Tanah Merah is testament to the fact that a course need not be long to be good.
Bunkers are an integral part of the game but unfortunately too many courses are unnecessarily over bunkered, and I saw this all too often on my travels. Augusta National, with just over 40 bunkers, is a great example of a course that has just enough. Both Tanah Merah and Ria Bintan have some of the fiercest I have seen anywhere this year. I am not sure how much effect these deep bunkers have on the place pace of play (or maintenance costs, for that matter) but I for one would not like to find myself in any of them. Ria Bintan is a once-in-a-lifetime experience given its outstanding scenery, flora and fauna and the nearby Laguna Bintan promises to be just as spectacular when the renovation of that course is complete.
In fact, I was recently in Bintan helping my business partner – Mark Lawson, who is overseeing the renovation at Laguna Bintan – with design input and took the opportunity to visit the Gary Player-designed Ria Bintan. The golf course is very challenging but does have a remarkable sense of place. I suspect any disappointment one would get from posting a big number would be nullified given the overall experience. The best golf courses are always identifiable with their surrounds and this can be said of Ria Bintan, where the jungle is hard up against the golf and where golfers get to interact with monkeys, large iguanas and the rest. It's hard not to forget. 
I visited a number of golf courses outside of Asia including a few in North America, like Old Memorial, Streamsong and Isleworth (all in Florida) and Glen Abbey, which often hosts the Canadian Open. Old Memorial was my favourite of the bunch and a wonderful example of what is achievable on a flat parcel of land.
The biggest surprise for me this year were the pitch and putt courses – fronting their respective hotels – I visited on the Cancun strip in Mexico. It was pleasing to see so many people enjoying these types of facilities. Short courses of this kind are what the game needs more of. The land parcel required to create these courses is very small – thereby lowering construction and maintenance costs – and they are such wonderful places on which learn the game. Most importantly,  a round takes less than an hour or two.
As I write, I am preparing for a week in Scotland – at the Home of Golf, St Andrews. I have been to St Andrews before but never had the opportunity to step foot inside the famous R&A clubhouse, which I am looking forward to doing this time. I have been asked to speak at an R&A-organised event on the pace of play and promise to report on this next month. 
Pages
Click here to see the published article.