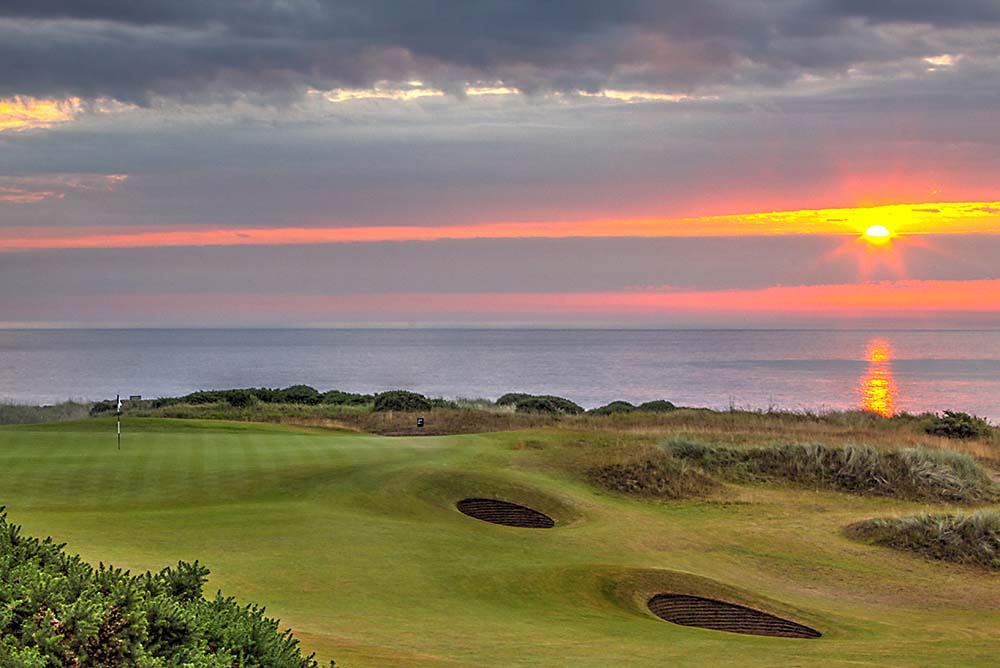 But there's more - much more - to golf at St. Andrews than the pure majesty of the Old Course. The two courses at the Fairmont Resort are as good a test of authentic links golf as it's possible to get. The Castle Course - part of the St. Andrews Links Trust portfolio - is another favourite, all three offering-up some magnificent views of the town below and the sweeping St. Andrews Bay.
St. Andrews is also well served when it comes to accommodation, something for all tastes and budgets, from the five-star luxe deluxe Old Course Hotel overlooking the Road Hole and the Fairmont on the edge of town to the chic Hôtel du Vin in the heart of the city. Two others, Rusacks, which backs onto the 18th hole of the Old Course and the 24-room Rufflets Country House Hotel are firm favourites with golfers.
Then there is the Peat Inn Restaurant with Rooms, no more than a dozen miles from any of Fife's fifty-plus golf courses, as well as an excellent range of lower-cost options, first-class Bed & Breakfast establishments and Guest Houses, plus a wide choice of self-catering properties.
And there's no shortage of opportunities to eat out in St. Andrews either. From haute cuisine to informal dining, you'll never go hungry in the Auld Grey Toun.
Most famous of all, the Jigger Inn sits within touching distance of the Road Hole and is a must for any golfer visiting the Home of Golf. Forgan's housed in an old golf club-making factory makes full use of locally-sourced produce, Vic St. Andrews blends goof food with a friendly ambience, whilst the Tailend Restaurant & Fish Bar serves the best fish-and-chips in town.
And those canny Scots know not to overcharge, which explains not only above average occupancy levels but also the frequency of repeat visitors, golfers and non-golfers alike. Some of the most exceptional visitor value, without compromising on quality and service is to be found in some of the smaller harbour towns and fishing villages down the East Neuk of Fife.
In much the same way as there is much more to St. Andrews than just golf, there is far more than merely St. Andrews to the Kingdom of Fife. Given the dominance of the 'Auld Grey Toon,' can be wrongly perceived as a 'One-trick-pony.'
Fife counts almost 50 golf courses within its boundaries - and the Kingdom conveniently embraces another Open Championship venue, Carnoustie, just 15m from its northern border, where the Claret Jug will be fought over in July this year.
Some of Fife's courses are amongst the oldest in the world. Others, like the magnificent Kingsbarns and Fairmont St. Andrews contemporary, but right out of the top drawer nevertheless.
Pages
Click here to see the published article.