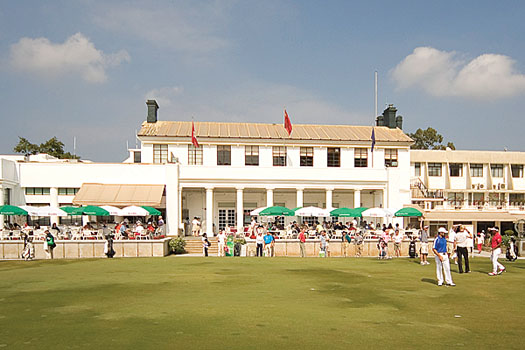 For any course I visit, I'm always intrigued to see the green complexes. After all, the quality of the green design marks the standard of the golf course more than anything else. The legendary Albert W Tillinghast spoke of putting greens "as having features just like a human, or at least, it should have to be worthy of the name. Of course, there are many which are no more impressive than the vacant, cow-like expression of some people, but then again there are some with rugged profiles which loom head and shoulders above the common herd, and the moment we clap eyes on one of these, impulsively we murmur 'Ah! There's a green for you!'" At Fanling many of the older green complexes are simplistic and classic in design but offer a stern test particularly when the speeds are up or when the pins are cut in difficult locations, like above the false front on the short 12th on the Eden (the eighth hole of the Composite Course).
It is also refreshing to see three golf courses whose strategy is not completely dictated by bunkers (and that these bunkers don't all look like something out of a Hollywood set). Bunkers are an integral part of a golf course but then so are ground contours, trees, vegetation, gradients, water features and other non-conventional items – some of which you can find on the Old Course.
In fact the Old Course may just be my favorite of the three courses at the club. It is a golf course with real charm. Its classic feel and quirkiness make it one of the most pleasurable golf experiences I have yet to find in Asia. It's almost as if a bit of Scotland has been transported to Asia. In an age where most of our modern golf courses are defined by a set of rules, formulas and equations, the Old Course rebuffs this thinking - and rightly so. The Old is not held to any formula; holes are fresh and innovative and derive their beauty from the surrounds. It's a remarkable golf experience defined by non-conventional features - for example, crossing holes, blind shots and non-returning nines - which if removed altogether would lessen its enjoyment considerably.
At the end, it is notable that each one of the golf courses has character in abundance - and each is impressive in their own right. But perhaps the most memorable and charming place to be is sat out on the clubhouse verandah which overlooks the practice green enjoying a cold refreshment after a round. I can think of few places, at least at a golf club, where I have felt such history.
Needless to say I am very fond of the Hong Kong Golf Club. If you have been - which I accept is a very likely scenario - you will know why.
Paul Jansen is the principal architect at Jansen Golf Design. For more information visit his website at www.jansengolfdesign.com 
Pages
Click here to see the published article.