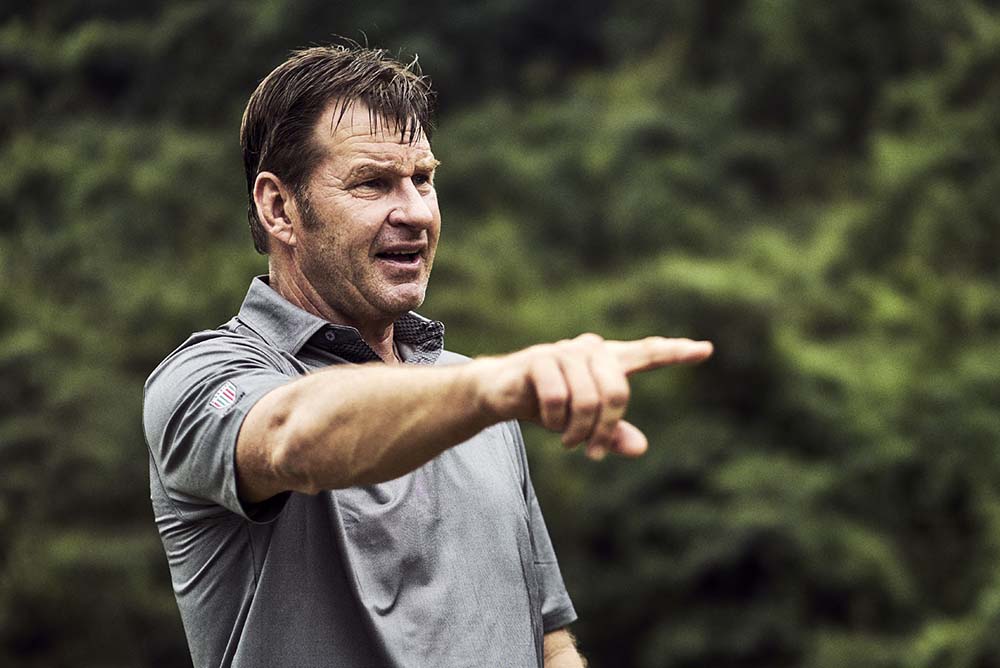 Did the discipline that you had at an early age make the decision easier to change everything regarding your swing while in the midst of your professional career to get to the very top of the sport?
SNF: Yes, I mean you fast forward to the end of 84, and I was European number 1 in 83. I won 5 times that year, and then I was winning every year sort of thing. Obviously, I had blown up at the open at Birkdale. Finally, I went down to South Africa in 84, and a lightbulb came on. It said: "You haven't got it mate. This is not good enough". This was when I met up with David Leadbetter. I chatted with a couple of other coaches before that, but David was the one that started talking about this rotation thing. He said, if we get this right, we can solve 6 problems here with one fix, and off we go.
So, I thought about it, and it wasn't until May 85', I was in Muirfield Village and missed the cut and couldn't hit the 12th green. I had doubled the 12th twice, and 'Lead' was there. I said, "Right, I'm ready to start." And that was it, we started. It wasn't so much a stupid decision, but it was stupid timing, ridiculous. To change your backswing in the middle of the season is like learning to throw darts and you've only learnt the backswing. And of course, this didn't fit, so I started hitting it everywhere, everything went wrong. I started playing badly, really badly. In that 80's media time, I got murdered, and those were the dark days as I call them.
I was beating balls like you couldn't believe. I went through the rest of the season and then went to Florida to hit balls with him. He was at this little place called Greenleaf somewhere south of Orlando in the middle of a forest and hit hundreds and thousands of golf balls a day. I went through all of that in the dark days. I lost sponsors through that but, amazingly, I kept my belief and determination. I don't know how. I guess I could thank my mum for the determination to keep going and finally came out of it in Spring 1987.
Do you think that experience contributed to making you such a steely competitor?
SNF: I'm an only child and went to hit loads of balls on the practice ground on my own and been happy as a sandboy all day long. I could entertain myself, me and my imaginary friends, Jack, Arnold, Lee and Gary, and go off and play against them. In that era, you had to look after yourself, and it was tough. Money was tight and to have your room when you were out on tour was deemed as a luxury rather than sharing. We had to start off sharing, which my dad thought was important. I went off when it was still in that era where you would go to the bar at the end of the round, but I would go to the practice range instead, as I wasn't deemed one of the lads.
Another interesting thing from that era was what we called, 'keeping it close to your chest'. My dad told me when he played for England that Eric Bristow didn't stay in the England hotel. He stayed in his one down the road. He said the day they know everything about me is the day they will beat me. Back at that time, I took it and said, "OK, that works for him, that's interesting". You kept your cards close to your chest and put your barriers up in some way. I think everybody did it: Seve, Greg and all of us did.
The other thing I talk about is that to change your lifestyle then you had to win. My first goal was to turn left on the plane into first class; it was my financial goal. Then I wanted to buy my first house, but you have to win to do this. You win £5,000, and the biggest prize then was £10,000 on the PGA. I won 5 times for £100,000 in 1983. I made the 1977 Ryder cup team with £7,000. Way back then, buying your first house was I think £60,000. My dad put in £20,000, and I was thinking, how many times have I got to win to get £40,000 after tax? If you wanted a Mercedes car, you had to go and win. Same goes for a family and children; the only way to put them into private school was to go out and win.
It's very different now. You cannot win and, if you have a good character, you can probably earn £10 million without winning a tournament, but you are marketable. You are flying privately to every event, whatever car you want. So, if you win, it doesn't change your life. But back then, I had to defend myself against Seve and Greg, plus it was the only way I knew how to play. My other defence in all of that was that I thought the best way to play was to head down and blinkers on and that's how I felt. I even felt if I bounced out of that to react to somebody or something, it upset me, and it shouldn't have because I had a steel trap of a mind. So that was the Faldo golf mode, head down blinkers on.
Pages
Click here to see the published article.