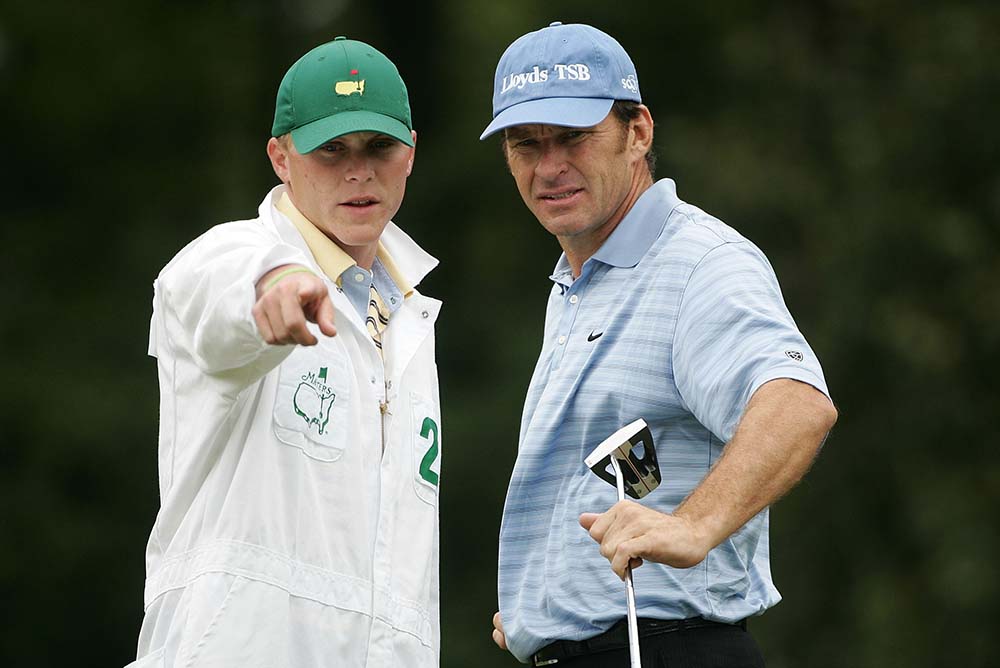 How did this single-mindedness come to bear in the Ryder Cup, which, of course, brought out some of the most amazing performances of your career?
SNF: The Ryder Cup is a team of two. You're 12 in a team room, and all get on, which we did because it was a fantastic atmosphere, and everybody was pulling for each other. But when you go out to play, it's a team of two. It's you and your partner, and your two caddies against those two guys. That and you're playing for a point, no prize money, so it was sheer guts.
If you didn't walk to that first tee thinking there was a way to win, you shouldn't have been walking to the tee, especially if you weren't feeling good. But if you were feeling great, you wanted to get to the first tee and get on with it. I've walked many times to that tee, and you're not playing good, but you've got to muscle through it and find a way to make it happen. So that's why the Ryder cup has this sheer, raw competitiveness spirit which makes it so fantastic. I knew it was so important that you had to win your singles on Sunday as well, and obviously, I loved the Ryder cup because of that.
I know I let my guard down and Seve let his guard down, and you helped everybody. If anybody wanted a putting lesson or you saw someone's' swing a little off, you're going to say so. The atmosphere was great in that era when we started to turn things around in 83, 85, 87 and 89. That was the run that changed the whole course of the Ryder Cup about.
When you reflect back on your playing career, what stands out the most?
SNF: What I'm most proud of is achieving my goal of winning Majors. You prepare for the Majors. The first Major you win, you feel there's something in the air. You get a sense. I said a couple months before my first one at Muirfield, after I won in Spain and the rebuild had come good, I said to myself, "Oh I need to win one more, so I am ready for the Open". Then, I got this sense and said to myself, "No, you're alright.  You're ready to win the Open". I had all of these great visualisations and images beforehand. The strongest one was sitting at the end of it and thinking, I won't be packing Sunday night as I'll be sitting at breakfast with the Claret Jug doing the BBC welcome to Muirfield. That was great.
My first Masters was a weird one. I arrived playing well, but I couldn't finish anything off. I would get an eight at the wrong time and end up 40th or 50th, but I was playing good. I was on the putting green, and Jack's always nice, he asked, "How you doing, how you playing?" I said: "Well, I'm playing good Jack, but I keep screwing up every week. I don't know whether to let it happen or make it happen." So, Jack said: "I know exactly what you mean," and just walks off. I wanted to say, "Jack fill in the blank, which one is it?" But I guess I let it happen. I know that as I was going down the 10th hole, after 27 holes of the tournament and leading by three, and I tried to make it happen. I had shot 6-under the first 27 and then 9-over for the next 27. Then I shot the crazy 65 on Sunday, and I win the Masters, bang. After that, what I'm proud of, in 1990, I forget about defending the Masters and instead tried to win another one. "Come on, you can do it," I said to myself. And so, I did.
My iron shots were amazing, and that put me on a hell of a run. I won that, hit the hole at the US Open [missing out on the spot in the playoff by a single shot], and I went to St Andrews on a mission to win there after that. I also went to Muirfield in 92' with the intention to win because I was World No.1, feeling good and had just won three majors, which is different to just thinking, I feel good this week. But 1990 is the proudest year of my career. It's different to walk down the fairway with the intention to win, even more so with the intention to win at a Major and I did that throughout that year.
Pages
Click here to see the published article.