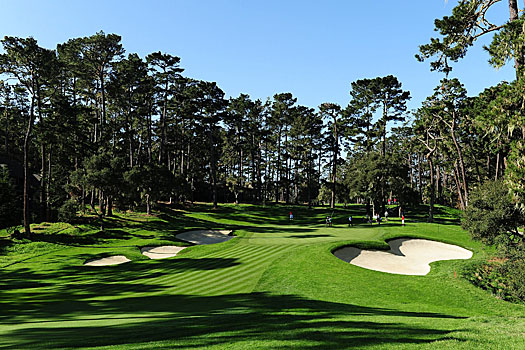 Poppy Hills
Owned by the Northern California Golf Association, the public-access layout at Poppy Hills is one of the newer courses (it opened in 1986) on the Monterey Peninsula, winding through the thick pines of the Del Monte Forest.
Designed by Robert Trent Jones Jr, Poppy Hills played host to the Pebble Beach Pro-Am alongside Spyglass Hill and Pebble Beach for 18 years and has been a popular destination for both NCGA members and visitors to the peninsula.
As part of an extensive renovation of the course that was completed in 2013, Jones Jnr undertook a similar exercise to the work Bill Coore and Ben Crenshaw completed at Pinehurst No 2 prior to the 2014 U.S. Open, removing acres of turf to expose the property's natural sandy terrain.
Following the renovation, Poppy Hills was unveiled as co-host alongside Pebble Beach of the Nature Valley First Tee Open on the Champions Tour.
Spyglass Hill
Robert Trent Jones Snr was responsible for the design of the highly regarded Spyglass Hill layout, which opened for play in 1966.
A perennial host of the Pebble Beach Pro-Am and the 1999 US Amateur, this striking and notoriously difficult layout is split between holes routed between sand dune and ice plant terrain closer to the coast over the opening holes, before turning inland to meander through the Del Monte Forest.
While the course is accessible to public play, advanced bookings may only be available if lodging at one of the Pebble Beach hotels.
Tehama Golf Club
Perched high above the Monterey Peninsula on the Carmel Ridge, the privately-owned Tehama Golf Club was established on serene, rolling terrain that its famous owner, Clint Eastwood, was inspired to purchase during the early years of his film career.
Expanding his land holdings when a neighbouring piece of property suitable for a golf course became available, Eastwood developed the golf course and an exclusive gated community just before the turn of the century.
The golf course was designed in 1999 by the late Jay Morrish and is kept to immaculate standards for members who are able to join on an invitation-only basis. The Spanish-inspired clubhouse includes 'Callahan's Grill' - named after Eastwood's Dirty Harry character - where a chance meeting with the man himself may not be out of the question.
Pages
Click here to see the published article.