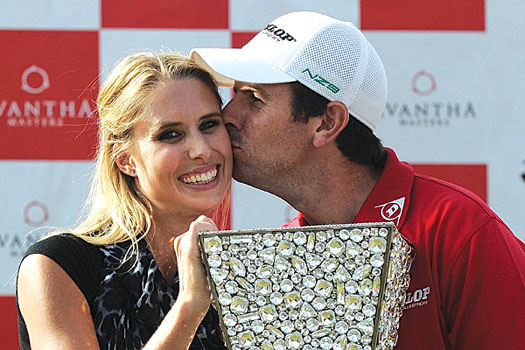 February 14th. As I write, sweethearts around the world are avowing their undying love. In East London, where the Africa Open is taking place, our hotel is bedecked in red and white as rabid commercialism hijacks yet another festival. The luckier golfers are accompanied by their loved ones, but for many on the tour merry-go-round it's a lonely night. Such is the life of the touring professional. How quickly the early glamour disappears when girlfriends, wives and children start praying on the absent mind.
It's been intriguing over the past 25 years of following golf to observe how triumphs and disasters on the course coincide so remarkably with the peaks and troughs of marital and emotional harmony and disharmony off it. The two graphs are almost invariably closely intertwined. A few wives and girlfriends have overcome the separation problem by taking up (paid?) employment, carrying the bag for their other halves. Generally, and unsurprisingly when you consider the pressures involved, those arrangements have lasted less time than the average pro/caddie relationship. Sometimes, though, a change works rather well, as evidenced by Thomas Aiken here. His beautiful wife Katie is a hockey player and skier, but knows little about professional golf. Carrying her husband's bag for the first time, she contrived to look glamorous, awkward and nervous at the same time. Aiken, who looked out of sorts when surrendering the lead the week before at the Joburg Open has been relaxed and focused here, happy to combine the role of golfer and caddie, save of course for actually carrying his own bag. How well it worked as he drained a 20-foot birdie putt on the first hole of a sudden death play-off against England's Oliver Fisher to record his third European Tour win. What a great investment that brand new red, black and white Titleist carry bag has been; a Valentine's gift for Kate. No doubt she got something a little more romantic too.
Unfortunately we on-course commentators have no packhorses to carry the heavy equipment it's necessary for us to carry, if our riveting words of wisdom are to make it out of the valley and across the globe. It was whilst tending to my sore back that the physiotherapist Kate revealed that the caddie Kate had kept her thoughts to herself except to venture to hubby, going into the final round, that whilst everyone else had shot their low rounds, his was yet to come. The excellent physiotherapist could yet become a handy psychotherapist! In the event he didn't have to go particularly low after the overnight leader Emiliano Grillo hacked and scrambled his way to a mind-numbing nine on the first hole, a par-4. Having looked a broken man, he then rallied to birdie the last five holes to finish tied fifth, in what must rank as one of the most remarkable final rounds ever.
Pages
Click here to see the published article.