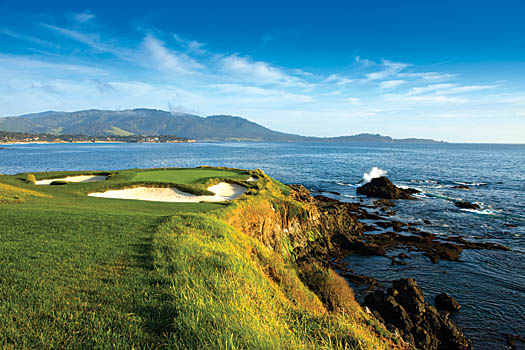 Memorable Monterey - Nearby Classics
Cypress Point
One of the world's most exclusive golf clubs and unrivalled in terms of its spectacular coastal location, the Cypress Point Club in Monterey is routinely ranked in the top handful of golf courses in the world.
Like Pasatiempo, Cypress Point was also designed by Alister MacKenzie and opened in 1928. MacKenzie himself said of the site he was blessed to work with at Cypress Point: "I do not suppose anywhere in the world is there such a glorious combination of rocky coast, sand dunes pine woods and cypress trees."
Unless you are invited by one of the very small number of members, it is virtually impossible to play Cypress, although you will be able to get a taste of the splendour of the layout by driving along 17-Mile Drive. The famous back-to-back par-3s, the 15th and 16th holes that are routed across jagged cliffs along the Pacific, are among the most photogenic holes in world golf.
If a tee time does come your way, kiss the ground and grab it with both hands. If you have another spare, I'll be on the next plane.
Pebble Beach Golf Links
By contrast to its northern neighbour, Pebble Beach is accessible to the public who flock in droves year-round to one of the most celebrated and well known golf courses on the planet.
With nine of the 18 holes taking in the dramatic Pacific Ocean coastline, Pebble has been exhilarating players with its breathtaking scenery since it opened in 1919.
Perhaps only the 17th and 18th holes on the Old Course at St Andrews can rival the photo opportunities that fans seek out at the tiny par-3 seventh, the par-4 eighth, which plays over the yawning chasm of Stillwater Cove, and the iconic par-5 18th snaking along Carmel Bay, where national championships and Pebble Beach Pro-Am victories have been decided.
Pebble has recently restored the hour-glass shaped 17th green, the site of great many fabulous US Open memories, including Jack Nicklaus' 1-iron to inches in 1972 and Tom Watson's famous chip-in birdie to clinch the championship in 1982.
Pages
Click here to see the published article.