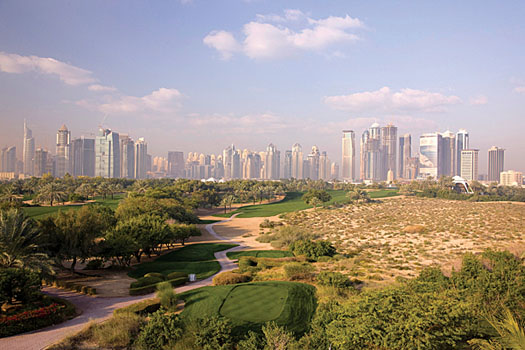 Most of us live in a concrete jungle - by that I mean we live in a place surrounded by high-rise buildings, overcrowded transport systems, busy roadways and a lot of smog and pollution. Just finding a patch of grass to enjoy can seem a hard task. This is where golf courses offer that little bit of respite - or at least allow us the opportunity to enjoy a bit of nature and green space within our congested environments.
I think of the first time I visited India and particularly the city of Delhi. Delhi is known for being 'green' - with the supposed number of public parks, cricket pitches and general green spaces - although I never felt I was one with nature until I arrived at the Delhi Golf Club, which lies just off a busy road. A green haven in the middle of a busy metropolis, the golf club is a total release from the craziness of the big city - so much so that you would hardly guess you are surrounded by over 10 million people. It is much the same way at Royal Colombo Golf Club in Sri Lanka, which is also slap bang in the middle of the city. A very unique golf course surrounded by high-rise buildings and divided by a railway line this course is also a haven for wildlife, birdlife and the odd reptile or two.
Other golf courses like Royal Selangor in Kuala Lumpur, the Hong Kong Golf Club and even the Emirates Golf Club in Dubai allow urban commuters the opportunity to enjoy the outdoors. Golf is unique in that we get to enjoy a large open space with varied fauna and flora usually not very far from where we live or work. Not one golf course is the same and this makes the game attractive.
Golf courses are also home to some amazing wildlife and birdlife that you would not typically find roaming the big cities - unless of course you are in India. In fact in some parts of the world there are golf courses that are totally entwined with nature and this makes them distinctive and as memorable a golf experience as you will ever get to see.
South Africa, for instance, may not have the best designed golf courses on the planet but it has a high number of very natural golf courses dotted about the Republic. Some of the most distinctive golf courses – found on the Highveld – take golfers on a journey like no other. Golfers can be forgiven for thinking they are on a game drive or as my Australian friend once commented, "Thinking you are in Jurassic Park". This should certainly not discourage golfers as these courses are remarkably fun to play and memorable to see in person. The Gary Player Country Club, Hans Marensky and Leopard Creek are three such layouts where golfers get to experience first-hand the beauties of nature. All three golf courses bound nature parks and because of this, animals often find their way onto the playing areas at opportune moments.
Pages
Click here to see the published article.