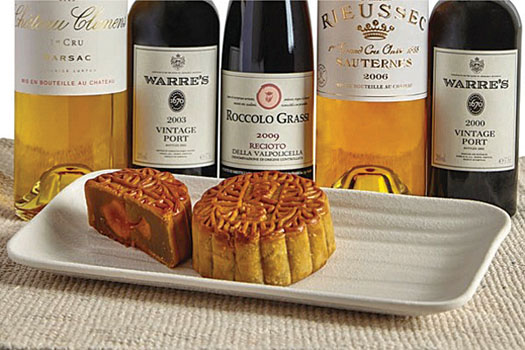 The following HK wine merchants have helpfully offered their take on this odd-sounding but totally modern way to enjoy the Mid Autumn treat:
ASC Fine Wines
Teaming up with French chocolate master, Jean-Paul Hevin, the team at ASC has chosen a premium selection of specially discounted wines to pair with Hevin's new "Pleine Lune" mooncakes until 30 September. Any spend over HK$800 will include a Paul Hevin Chinese Lantern Box with one Praline Mooncake (worth HKK$128) and HK$1,500 will bestow two mooncakes of Praline and Chocolate Ganache (normally HK$228). Anyone splurging HK$2,500 and above will receive a 10-piece set of Jean Paul Hevin's macarons (normally HK$260) and free delivery is for any order of HK$1,500 and over.
Kerry Wines
For traditional mooncakes, Kerry Wines has chosen Port and Recioto della Valpolicella for their concentration, density and sweet finish. The wine's dark fruits, chocolate and nutty flavours will match the fillings of the lotus seed paste and egg yolks. The team also recommends a glass of Sauterne that beautifully enhances the complexity, silkiness and aromas of the cake. Kerry Wines is offering a set of four Island Shangri-La mooncakes (worth HK$348 per box) with any order over HK$3,988. These traditionally filled white lotus seed paste with double egg yolks treats will be delivered with your wine order or separately by courier.
Pages
Click here to see the published article.