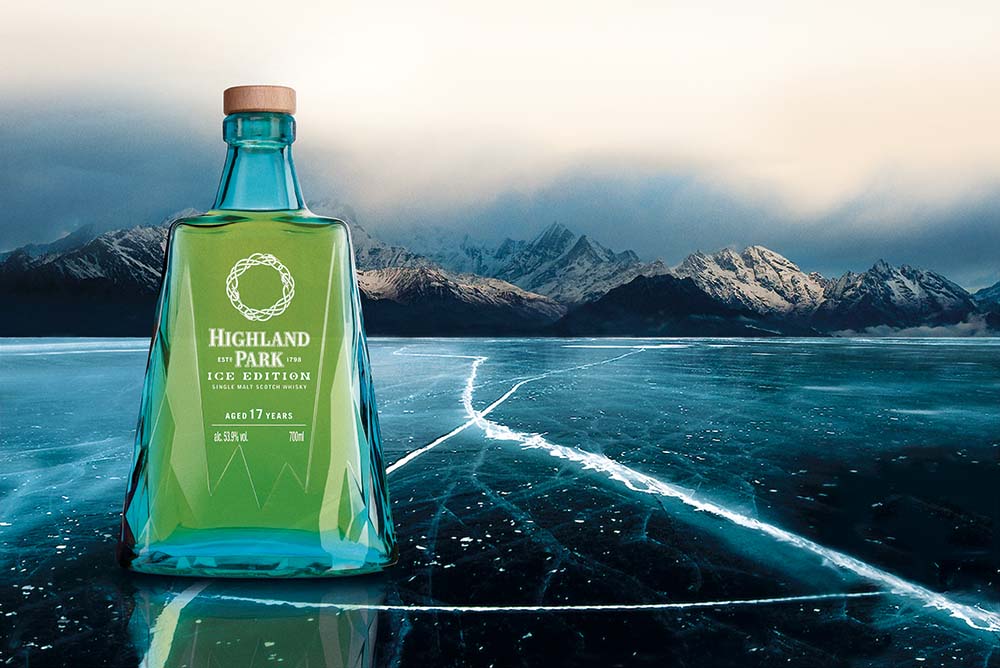 According to Norse creation mythology, the ice realm, Niflheim, is the home place of darkness, cold, ice and frost. The first Ice Giant, Ymir, was born at the beginning of time when the edge of the realm melted from the heat of the neighbouring fire realm, Muspelheim, and he is the first creature mentioned in the legend. As Ymir slept, he gave birth to the Jotun family – a race of powerful Ice Giants standing at over 20 feet high and known as the Gods of Creation. When they shook, fought or sneezed, it caused earthquakes!

Highland Park's latest creation ICE Edition is a special bottling which delves into the world of classic Norse mythology. This stunning expression celebrates the Viking roots of the brand's Orkney Islands home, where the Norse influence and culture were woven for hundreds of years before Highland Park single malt whisky was even created.
Jason Craig, Brand Director of Highland Park commented: "This 17-year-old single malt has a classic Highland Park flavour – dynamic, soft spicy notes complement and intertwine with creamy vanilla hues, providing a balanced and long finish. A truly harmonious whisky to savour.
"Naturally vivid and radiant in colour with a 53.9% ABV, this special edition is limited to only 30,000 bottles globally. In blue tinted bespoke glass reflecting dazzling and glittering ice, the bottle shape has been designed to evoke the distinctive sharpness and coolness of the mythical and magical Ice Realm. The bottle is encased in a stunning mountain shaped wooden cradle with accompanying wooden stopper.
"The intricate circle design on the label itself represents the circle of life – the creation of the world protected by a dragon; a mythical creature often central in classic Norse mythology. A booklet accompanying this new variant recounts the story of the realm of the Ice Giants and their wonderfully colourful battle against the Gods to rule the world!"
Pages
Click here to see the published article.