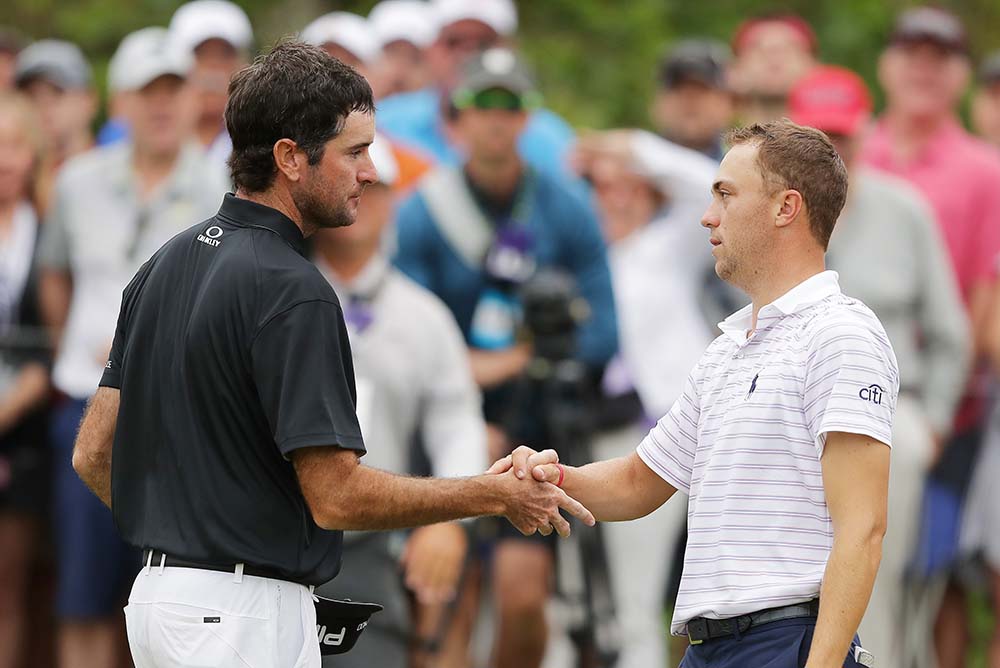 Originally a straight knock-out format, where one bad day at the office could see any one of the top 64 players on the OWGR eligible to play heading home after day one. More recent incarnations, since 2015 and including this year's event in Austin, Texas, have seen round-robin groups created, padding, to ensure each player at least three matches. Members of the media still unhappy given the number of meaningless final group games where one or both players had failed to qualify for the knock-out stage.
As with most WGC events, Tiger Woods was the biggest beneficiary, winning the event on three occasions after losing to Darren Clarke on debut in the event in 2000. But at least, unlike the later versions of McCormack's match play, the cream invariably came to the top. Matt Kuchar, Dustin Johnson, Rory McIlroy and Jason Day (twice) getting their name - and hands - on the distinctive pale blue and gold ceramic trophy.
The LPGA Tour has flirted with match play tournaments. The HSBC Women's World Match Play Championship lasted just three years, between 2005 to 2007, replaced by the Sybase Match Play Championship, which continued just three years also. Whilst the Asian Tour's only flirtation with what many consider to be the purest form of the game being the team-based Eurasia Cup.
And that's the idiosyncrasy of professional golf's relationship with the head-to-head format; it's the format of choice for some of the most thrilling and iconic events in world golf, such as the Ryder Cup, the President's Cup and the Solheim Cup. All match play formats create high drama, raw emotion and electrifying competition, without exception.
But when golf was admitted back into the Olympic family for Rio 2016, and once again for Tokyo 2020, golf's hierarchy eschewed the natural format of sports in the so-called, 'Greatest show on earth,' opting instead for the standard 72-stroke play format, reverting to type with the staple diet of professional circuits all around the world.
But when other Olympic sports such as tennis and boxing can cope with the defeat of any of its marquee names, such as Roger Federer and Amir Khan before the final, why can't golf, just once every four years and on the greatest global stage of all, replicate the drama of the Ryder Cup with knock-out competition? And in the tradition not only of the Olympic Games but the game of golf itself?
Must match play golf always be consigned to the margins, to suit players, event organisers and members of the media? Or does the viewing public, on the course and TV deserve something more imaginative?
Pages
Click here to see the published article.