Uncle Sam Slates the Scots
Reigning US Open Champion John J McDermott, Jr made the long sea voyage to Scotland to compete in the 1912 Open at Muirfield. Like many of his fellow professionals he was disgusted with the poor accommodation set aside for them in nearby Gullane. He was doubly annoyed when he found out the member locker-rooms remained out-of-bounds to competing professionals but not amateurs. With a revolt threatening to cancel the tournament, matters became so heated that the British PGA called an emergency meeting with the championship committee. But the Honourable Company and R&A refused to compromise and the only concession they would offer was an agreement to listen to any "justifiable requirements" prior to the 1913 Open at Royal Liverpool.
Nice one, Cyril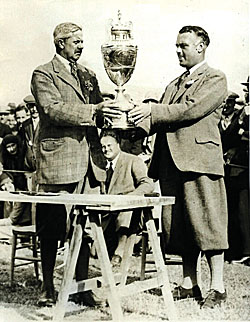 The sportsmanship displayed by Brit Cyril Tolley and American Robert Gardner during the final of the 1920 Amateur Championship at Muirfield, so impressed USGA President, George Herbert Walker, that he conceived the Walker Cup contest between the top amateurs in America and Great Britain and Ireland. In a quirk of history he might not have been quite so impressed had he known that Tolley (right) had already paid a "win" bonus to his caddie before stepping onto the first tee! (The Englishman won on the 37th hole.)
What's in a Name?
Jack Nicklaus began a lifelong love affair with Muirfield after representing the United States against GB & Ireland during the 1959 Walker Cup. Winner of the Open at Muirfield in 1966, he was so impressed with the East Lothian links that he named his own course in Columbus, Ohio, "Muirfield Village" after it opened in 1974. Other courses named in honour of Muirfield include, Muirfield Golf Club in New South Wales, Australia and Muirfield Lakes Golf Club in Alberta, Canada.
Low Profile
When it's not hosting the Open Championship, Muirfield remains among the most private of Scottish golf clubs. Located just outside the village of Gullane, signage to the world famous course was restricted for many years to a small hand-painted wooden board at the top of Duncur Road saying: "HCEG Entrance." Today, not much has changed at the home of the Honourable Company of Edinburgh Golfers. Modern day visitors are now forced to negotiate a retractable metal gate which bars the way to the course. Muirfield also lacks its own professional shop. Instead you are politely directed down the road to the pro shop at nearby Gullane Golf Club which has permission to stock Muirfield logoed items.
Not Quite Men Only
Visitor times at Muirfield are restricted to Tuesdays and Thursdays excluding public holidays. Most booking are made over a year ahead with cost ranging from £195 (approximately HK$2,400) for a single round and £250 for two rounds in one day. Contrary to popular belief woman are allowed to play but the Honourable Company continues to prohibit female members from joining its ranks. A source of much discussion especially when the Open returns here every five years or so, its stance contrasts with the United States Golf Association who does not allow clubs with single-sex policies to host the US Open.
Pages
Click here to see the published article.