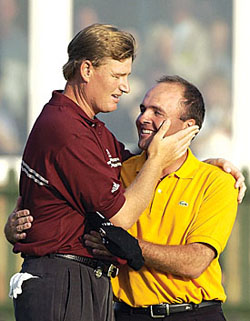 By way of an update, there are women in the mix on Tuesdays and Thursdays, Muirfield's visitors' days and the days when members tend to stay well clear. What is more, for the last couple of years, the women concerned have been allowed to eat the lunch instead of being shunted into a side-room with a plate of sandwiches.
The club also has a history, if a scanty one, of having hosted a couple of Curtis Cups, though in the case of the 1958 installment, they stopped short of letting the women use the clubhouse as their base. (On the one day the women were allowed in for tea, the secretary posted a warning in the members' locker-room and said he hoped that the members would not be too inconvenienced by the invasion.)
More recently, the members have played an annual match against a team of women professionals led by Ireland's Maureen Madill, who often commentates for the BBC during The Open.
The above is a fixture which the members will often mention by way of suggesting that they are doing more than enough to balance the ledger. That can be a little irritating; though, in terms of irritation, not too much can have matched how Muirfield, the R&A and the other male-only establishments would have felt when Augusta admitted a couple of women members in time for this year's Masters.
How many of those Muirfield and R&A men, you have to wonder, would have gone up to the green-jacketed ones during that major and complained, "You've let the side down …"
Yet, by the end of this month's championship, all the fuss will have given way to reports of how one more golfing great has won at Muirfield. For sure, no other Open venue can boast such a list of champions: Harold Hilton, Harry Vardon, James Braid, Ted Ray, Walter Hagen, Henry Cotton, Alf Perry, Gary Player, Jack Nicklaus, Lee Trevino, Tom Watson, Nick Faldo and Ernie Els.
Pages
Click here to see the published article.