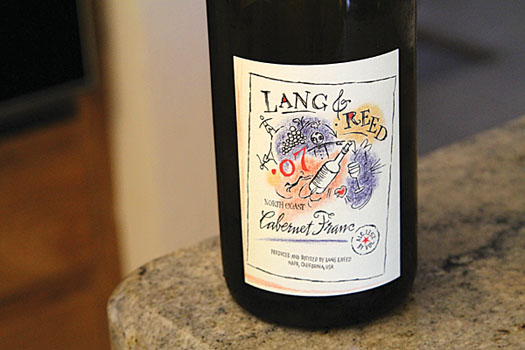 Poor Cabernet Franc. Lined up next to Cabernet Sauvignon in a tasting and it hides nervously in the glass. Its bright red colour and gentle aroma of currants, berry leaves and violets is dominated by the lashings of alcohol, tannins and flavour bursting out of its boisterous counterpart. It's the overlooked younger sibling quietly reading a book while its rambunctious elder brother is galloping round a rugby pitch.
And yet, the thin-skinned grape that originally hails from the Basque Country is thought to pre-date Cabernet Sauvignon. DNA tests on vines concluded that Cabernet Franc and Sauvignon Blanc are the parent grapes of Cab Sauv (as well as Franc venerably being the grandfather of Carmenere). It is the most widely planted black grape in Touraine in the Loire Valley and along with Merlot, is often grown as insurance in case of late ripening of Cab Sauv in the Graves and Medoc regions of Bordeaux. In short, it's the reliable best man in cooler regions in case Cab Sauv fails to turn up on time.
The trouble is that it is predominantly used in Meritage blends because of the current fashion for powerful and high alcohol wines, but in the 1960s it was as widely grown in Bordeaux as Cab Sauv before being replaced by the fruitier and more acidic Merlot. However, Cab Franc makes up most of the varietals in right bank St Emillion - the best example being Chateau Cheval Blanc which was awarded the highest status of Premier Grand Cru Classe - one of only four producers in Bordeaux to achieved this.
However, the place where Cab Franc really takes centre stage is in the Loire Valley. Known as Breton, it turns its hand to producing red and rosé wines and is enjoyed extensively in summer by red-quaffing heavyweights who want something lighter that's not white. Particularly in Chinon, Bourgueil, Saint-Nicholas de Bourgeil and Saumur-Champigny, Franc that has been able to ripen fully displays silky tannins, ripe red fruit and a captivating leafy, pencil shavings aroma. Cooler vintages though can produce sharp but weedy offerings and Franc should be allowed at least a year or two in the bottle before opening and preferably even more.
Pages
Click here to see the published article.