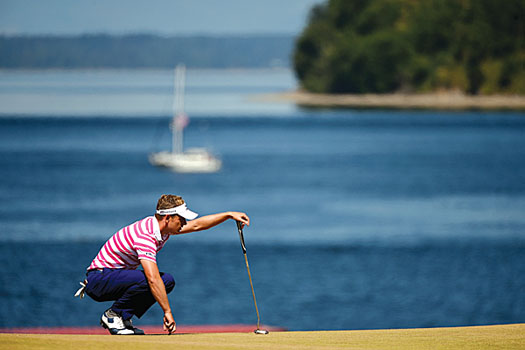 Hear the name Luke Donald and thoughts of a magical short game immediately spring to mind. Modest in stature, the Englishman reached the summit of the world rankings in 2011 not by overpowering courses with distance from the tee, but through his ability to pitch and chip the ball with deadly accuracy.
But in recent times, much of the talk has been about his long game. After 16 years working with coach Pete Goss, Donald became frustrated at his inability to compete in Majors, feeling that his inconsistent long game was the overriding cause. The final straw came at the 2013 Open at Muirfield where Donald struggled to control his ball on the firm and fast turf. The pair parted ways and after Sean Foley turned him down due to lack of time, Chuck Cook came highly recommended. A disciple of Ben Hogan's swing, Cook, now 70 years of age, has worked with some of the game's best players, including Major champions Tom Kite, Payne Stewart and Jason Dufner.
Together they worked on crafting a more rotational action that used the bigger muscles, enabling him to keep his height and reduce the amount of hand action through impact, generating more speed and consistency. But this intense focus on his long game meant Donald lost sight of what made him the world's best player - his short game. Sure enough, Donald slid down the rankings, and he decided to return to coach Goss in November last year and go back to polishing his desirable short-game skills.

His recent results have been more akin to what we've come to expect from the four-time Ryder Cupper and owner of 16 professional titles.
We sat down with Donald to find out about his technical and mental approach to the short game, how he practices and how he's honed it over the years to become one of the best players with a wedge in his hand since the enigmatic Spaniard Seve Ballesteros …
Pages
Click here to see the published article.