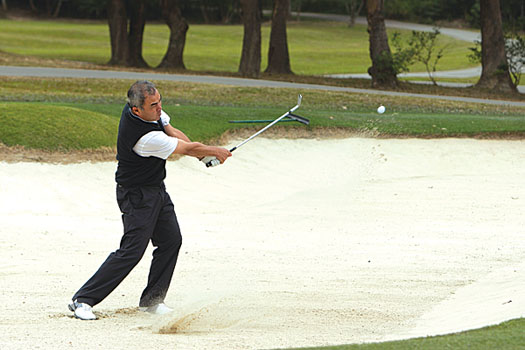 Have you rubbed any player the wrong way with something you said on air?
No one has come up to say I was wrong. Last year in India, watching Lam Chih Bing play, I said he didn't look comfortable standing over his putts. Honestly, I don't think he does. If you ask him, I think he'll feel the same way. It was a morning record and it was aired in the afternoon and he heard the comment. He was missing putts all day. Someone came up later and told me Lam was a little upset with what I said. I later saw him at the practice green and I said "Hey man, I am sorry if I had upset you but I'm just saying what I see. I see that you don't look that comfortable." I think he agreed with me and I apologised. I'm doing my job and he's doing his job. We have no problems. That's the beauty of it. None of the guys here have big egos and I'm lucky I can say things and if they are upset, they can come up to me and say I'm wrong. But I still don't feel like I'm bursting any egos as the guys out here are great. The guys from my generation know that I'm pretty much a straight forward guy.
Do you need to hold back on what you can say on air? Is it difficult to do?
Sometimes you have to temper what you say. Mike Crowe [Asian Tour Media Executive Producer] and I have a laugh. We have 'talk back' to each other. We have what we call the alternative commentary which is what we like to say but sometimes we can't say it on air because of political correctness and stuff like that. We have a laugh. I'm sure every commentator would like to say how he feels but we'd be out of a job by the end of the broadcast if that happened!
What's been some of the nicest things you've been complimented for your TV work?
I was told a while ago that no matter how good a job you do, you're not going to please everybody. There are brilliant commentators out there that I don't like ... I don't like the way they deliver their lines or I don't like their voice. I don't mind criticism as it's human nature. I have gotten a lot of compliments and my biggest critics are my friends from back home who never ever say anything nice about me unless they genuinely had meant it. The culture I grew up in was that the more people like you, the more they take the mickey. If my friends are saying nice things about me, I know I'm on the right path.
 
Pages
Click here to see the published article.