The Asian Tour is celebrating its 10th season this year. How much have you seen the game grow on the Asian Tour from the time you played up till now?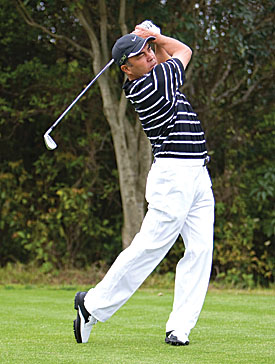 Sometimes it hits me how big a difference the game has become over here. If you look at the scale of the tournaments now, it's so much different. When I was playing, we probably had two live TV events. Now we have like 15 or 16 live events a year. The scale of the events, the marquees, the hospitality, the prize money, it's all grown. We never had a marquee those days. The prize money for most events have escalated to US$750,000, US$1 million or US$2 million for our full field events, which is great.
Has anything changed with the players?
The professionalism of the players is very different. We were kind of old school then, never went to the gym and didn't work out. Now you see everyone going to the gym which is reflective on all the tours. We used to hang out at the bars to chit chat. It was different. The good thing about the Asian Tour is that it's still got the friendly camaraderie even though it's become more professional. These guys are making more money and the level of professionalism has risen compared to 15 or 18 years ago.
Who amongst the new generation of Asian Tour players do you think will become better than the likes of Thongchai Jaidee and Thaworn Wiratchant?
I think Kiradech Aphibarnrat is unbelievable. I think he really is natural. I think he can go really far in his career. He can be top-20 in the world, top-10 in fact. He's got a massive talent. I think he can go all the way. Korea's Noh Seung-yul, our 2010 Order of Merit champion, is also another guy who can become a world's top-10 player. He can go all the way.
Speaking of Kiradech, he is a big boy. Have you talked about it on air?
I was actually going to bring it up [during the Maybank Malaysian Open which Kiradech won]. For the longevity of his career, I think it would be beneficial. But I also get the impression that if he lost a big amount of weight, he might lose his game too. We've seen that in the past with the big players. It's a dangerous one. It's not ideal to carry the extra weight that he's carrying. Golf is mentally more tiring but it's also physically draining when you're playing a tough season; you've got the pro-am, practice rounds, week in week out. But he's a point now that he's got the luxury to plan a better schedule.
Pages
Click here to see the published article.