Many are now labeling you "The Voice of Asian golf. Is it complimentary?
It's a flattering term but basically, I'm the only guy right now. Hopefully when we develop and have 30 to 35 tournaments in a few years' time, we'll add more to the team. I can't do it all. I'm looking forward to the day when we have a bigger team in our commentary.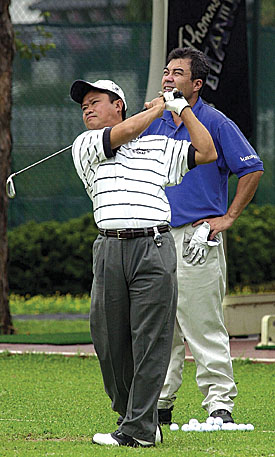 You've worked with many top golf commentators now. How much have you enjoyed working with different commentators?
Everyone I've worked with has been fantastic. I've worked with Renton Laidlaw, Warren Humphreys, Julian Tutt, Richard Kaufman, Alan Wilkins, Dougie Donnelly and Peter Donegan, I've been very lucky. These are the guys I've looked up to. For me, I was star struck when I started working with them as I had watched them when I was playing and growing up. To actually work alongside them, it's a big deal for me. But now, they've become friends. Everybody brings out a different side of me. They've all been easy to work with. There's not been a guy that I've sat next to where he's made me feel uncomfortable like he's the man or he's the star of the broadcast. They've all treated me like a complete equal although at the beginning, I was a novice. I still feel I'm a rookie although I've done it for eight years now.
Any good advice from them?
They give me little tips. The one thing is be yourself, they've all said it in their own way. Say what comes to your mind and be yourself. Don't be someone different as the audience will figure that out.
You get to watch and talk about all these great golfers on the Asian Tour and from around the world. Do you get the itch to try to get back out there to play competitively?
It's never gone. I still love the game. Deep down, it's still my passion. There's some sense that there is some unfinished business, that I should be better than what I am but it's getting less and less. You never know. I still play the occasional local stuff to keep the juices flowing. I think it's important that I still play the game, understand the technology. It's good to play with better players to see what the difference is.
Pages
Click here to see the published article.