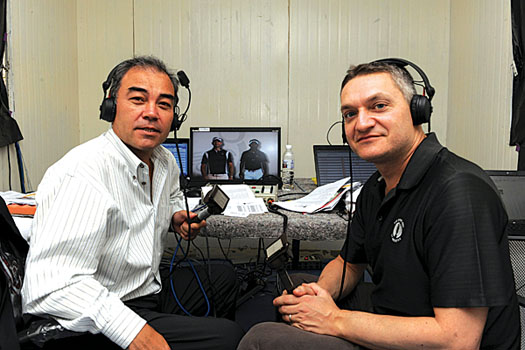 How about yourself ... what held you back from winning on the old Asian circuit during your playing career?
I was a mental midget! I was terrible. I watch how the top players behave now and how I behaved, it was terrible. They are patient. I was very competitive. There is no way these guys are less competitive than I was but how they manage their emotions on the course where I absolutely had no control. It was pathetic.
What have been some of your worse moments?
A hundred of things! Throwing clubs ... I once finished with six clubs in my bag. I just threw them all into the lake. At the time, I couldn't control it. I felt bad for my playing partners. I must have been a distraction to them. You still see a few guys out here but they've been held back. It takes a huge amount of discipline. I'm a social golfer now but I still can't control myself and I still throw clubs. It's pathetic. I'm 47 years old! This game drives people to do silly things. Off the golf course, my personality is totally different. It's bizarre.
Has extended TV coverage helped players to behave better?
You never saw the players through an extended period of time as telecasts those days were confined to the last six to seven holes. Even the Masters covered only the back nine until quite recently. So you never really saw how the players behaved throughout their rounds. Now, you don't miss a Tiger Woods shot, you get to see Rory McIlroy throughout his round. And you get to see their reaction after a bad shot, they just put their club back into the bag and continue walking. Because of the exposure, the guys learn a lot quicker. The young guys now have far more knowledge, swing, mental training, lifestyle, coaches, fitness. We learned the game after turning pro. We learned how to play after we turned pro. Now, these kids are ready after they turn pro because they have all these support. It's a different game, a different era. I'm not necessarily saying it's better.
What are your thoughts about the pace of play these days?
The pace of the game is a worry. Golf shouldn't take four and a half hours. It should take no more than four and a quarter but of course if the course is tough and the greens are tricky, it'll take a little longer. It's a hard watch when you see the guys take a minute or a minute and a half to hit a shot. When you watch the top players, they are reacting. They react to what they see. It's an instinctive game, it's a feel game. Of course you have the mechanics of the game to think about but it's what you see and how you react to it.
Pages
Click here to see the published article.