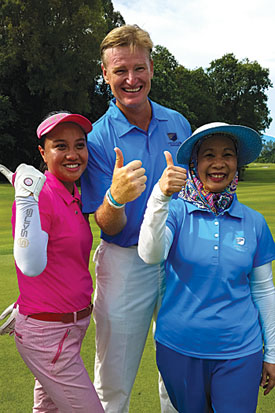 Can you tell us why you chose Malaysia for your third Els Club project?
Well, Malaysia really is a hot bed for golf and tourism. When I think of the world's most exotic destinations, it's hard to look past this country that is blessed with such stunning paradise islands as Langkawi. Look around you, we've got the rainforest, we've got the beautiful ocean and the jaw-dropping beaches. It's just a wonderful spot. I speak to the tourists that come here, some of them have come here for over 20 years, they love what we've done with the golf course, it really is world-class now and I think the addition of The Els Club Teluk Datai will help draw a lot of tourism and golf enthusiasts to Malaysia. They are really growing the sport of golf in Malaysia; our design group is currently busy down in the south of the country at Desaru Coast with a much bigger scale project that will open in 2016.
The course is quite unique in that it doesn't feature any bunkers. Can you tell us why this is the case and what challenges the site presented to you, with it being located in a one million-year-old rainforest?
Well, we have worked on lava rock in Mauritius, on coral reef in the Bahamas, on rolling hills in South Africa, but never in a rainforest, so this was certainly a first for the whole team. Obviously, the first thing we had to take into consideration was the amount of rainfall we get here in Langkawi. Looking at the previous course that was here and just walking around during the first site visit with the guys from Troon Golf, we saw a lot of standing water all over the place. So the first thing we needed to do was find some kind of drainage system. To do this, we literally opened up the creek to the river almost out of the mountain where the water comes through to the golf course. It also dawned on us that first afternoon, when a storm came down and flooded the existing course, that it just wasn't practical to have to drain out bunkers every time it rained. I think it's the first course we have ever built without one bunker. It's quite friendly and I don't think you'll miss playing out of bunkers.
Moving on to your professional playing career … what, ultimately, made you choose your clubs over everything else?
I just, for some reason, loved golf, more than all the other sports. Rugby, you get hurt and I don't like to get hurt. Cricket I played right through school. I stopped playing rugby at 16, my dad really told me not to play anymore. Tennis I still play, my daughter plays and I've picked it up again. I'm a shadow of my former self from back in the day, but I still enjoy the game. In South Africa, we had great weather, so we could play any sport at any time of the year growing up, so I was very lucky.
Pages
Click here to see the published article.