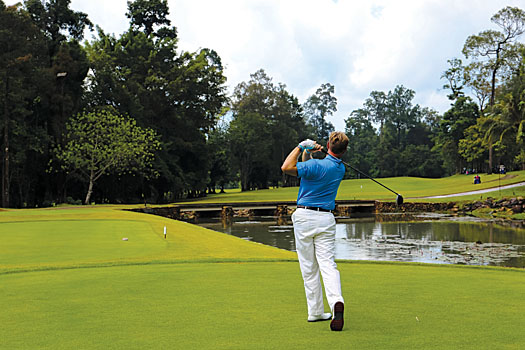 What still motivates you - is it the competition?
Yes I love competition. I love doing anything if its competition, if its table tennis or tennis against my daughter, whoever, even a pool game, anything. Competition is what it's all about. I've been competing since I was ten years old in a lot of different sports, it's in my blood. But, nowadays, I compete for myself, I'm still trying, I want to try and win one or two more Majors before I'm totally done, so that still motivates me and means I am able to play at a high level.
You have had many big moments in your career, but what would you say has been the highlight of your three decades in the sport?
In golf, so many things have happened. Obviously wins have been great. The majors are undoubtedly the highlights of my career. I've won five South African Opens, which is really great, the Match Plays I've won and so on. I can't really pick one event, but through that whole period of time it's really the friends I've made and now getting into golf design is a real passion of mine that I want to grow. Here at Langkawi this week, we are completing another phase in building an Els Club brand around the world and that has been a lot of fun to be part of. This week I met and played golf with the Queen of Malaysia which is amazing for a guy from South Africa.
You mentioned a couple of times that you would like to own a bar or a restaurant in the Caribbean when you retire is that still the plan?
That again? You are bringing some good quotes out. I said that back in the early nineties, right before the US Open. The media asked me, what will happen if you win this US Open? I said: "Well, I'd just take the money and go to the Caribbean, open a bar and that would be that." Well, that was 21 years ago and we are still trying to win more tournaments, as well as building golf courses all over the world, so I guess that bar is gonna have to wait!
Pages
Click here to see the published article.