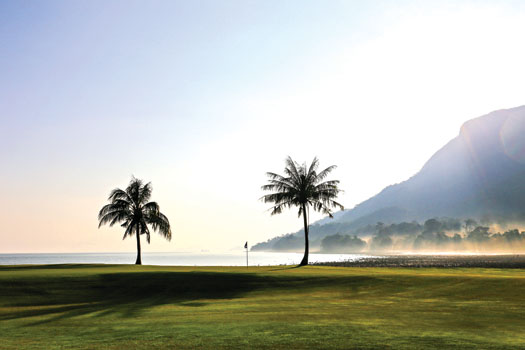 Who would you say is your toughest competitor?
The game itself. Through the years we've had our ups and downs. Back in the day, it was definitely Tiger Woods; he was by far the best. It was tough for me because I felt that I could really be the best player in the world and I was for a short time on paper, but Tiger was really the man to beat. He was a very difficult competitor. Nowadays it's the game and the youngsters, you know Rickie [Fowler], Adam Scott, we can go on and on, Jordan Speith, there are so many other really good guys, really good players, but I really enjoy their company. But, I'm in a different stage of my career. I feel the wins aren't coming as frequently as they used to, but I really enjoy my game and my time out there.
You just mentioned Tiger - tell us about the 'Big Five' era. Did you have a game plan going into tournaments, knowing that Tiger, Retief Goosen, Vijay Singh, Phil Mickelson, they were all bringing their A-games as well?
That was a great time; we were in the prime of our careers. We still play sporadically like we used to back in the day but, you know, I am 45 now, Tiger is nearly 40 and Retief is the same age as me, but that was a golden era for us. We won a lot of tournaments around the world; I won, just in that five year period, over 27 events around the world. But Tiger was the dominant figure, you know. He was winning the most majors and that's how you become the guy who's a great player in the game. I got to win only four, Phil's got five, Retief's got two, Vijay has three and then Tiger has 14, so it just shows you how dominant he was. He was quite a force to be reckoned with.
You once said you had a three-year plan to try to dethrone Tiger, and then said you, if not anyone else, you would be the one to do it. What happened there?
Well, I felt really good after a win at the South African Open, I think in '06 or something. I had a very bad knee injury in 2005 and that put me off track and I really wanted to rededicate myself to the game. I don't normally talk so big, or make such bold statements like that but, you know, in South Africa I was feeling that I really needed a goal to go at and I felt I needed a plan, so I made that plan public and I came close. I didn't quite close the deal and it was maybe something I might regret saying, but I wanted to have a goal to go at.
Pages
Click here to see the published article.