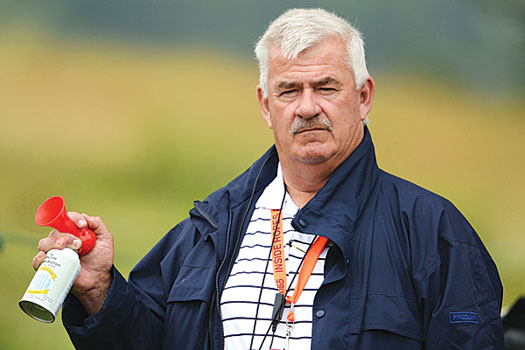 News travels fast in the refereeing community and John Paramor, one of the world's most senior referees, was as well-versed as anyone with what had happened at the Solheim when he turned up for the Omega European Masters in Switzerland last month. He had heard so many versions of the rulings at the 15th that he did not want to comment further until he had a clearer picture in his head. Yet when it came to the 'walking off the greens' issue, he said that this was not exactly new: he himself had been aware of it in a Ryder Cup context.
"Things are starting to get a bit feisty in all these matches and etiquette can suffer - and it's suffering in regular events as well," he said.
Paramor clearly felt that the etiquette section in the book of rules had made too silent an entry when it was added to the publication in 2008. "I wonder what's happened with it?" he queried.
His feeling is that the individual nature of golf, coupled with the vast money at stake, has resulted in the players becoming more and more concerned with what is going on in their little world - and altogether less interested in what is happening to their playing companions. They just don't want to take on that kind of responsibility.
"The whole idea of a player serving as a marker for another is no longer what it was," said the official, who admitted that there are plenty of professionals who cannot be relied upon to mark down their companion's score at the end of every hole.
Going on from there, he agrees with Thomas Bjorn's assertion that it is not enough for a player to half-know the rules as applied in the case of Stacy Lewis.
"You have to know them back to front if you are going to take on a referee," said Bjorn.
The Ryder Cup Dane added, quite freely, that there are players on the European Tour who "don't know the first thing about the rules and it's embarrassing. When some of them don't understand the different regulations between red stakes and yellow ones, you've got a problem."
When it was put to Paramor that the decline in standards was probably more noticeable in the West than the East, he was not so sure. It was Paramor who had taken a bit of stick for giving the then 14-year-old amateur Guan Tianlang of China a one-shot penalty for slow play at this year's Masters. Paramor stopped short of saying that the player had been discourteous and opted instead for the line, "Let's say he was less than happy."
Others who were on the spot made no secret of the fact that they were taken aback at the sight of a child who was clearly in no mood to be told what to do by anyone, and that he was unutterably slow from the point of view of his playing partners. Guan's approach will no doubt be copied by the next child which, of course, is the thing with bad manners: they tend to be catching.
Pages
Click here to see the published article.