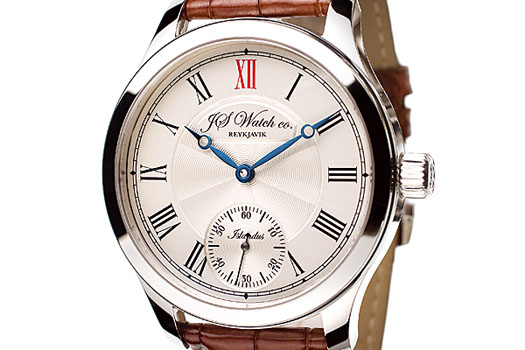 After years of imagining their dream watch, friends Sigurdur Gilbertsson, Julius Heidarsson and Grimkell Sigurthorsson decided to make the timepiece a reality. In 2005, with Gilbertson's father, Gilbert Gudjonsson, a master watchmaker of 40 years onboard, the team launched it first line and JS Watch co. Reykjavik was born.
The collection was an immediate success and sold out within six months. Iceland's economy, however, turned out to be built on an unstable base and the Icelandic Krona – the currency of this island nation – collapsed. The wealthy domestic market on which the firm relied, vanished.
In the wake of the financial collapse, however, millions of tourists flocked to Iceland, desperate to take advantage of the prices offered by the country's weak economy. JS Watch co's precision craftsmanship, attention to detail and sheer excellence in watch making appealed to this new influx of visitors. The brand was quickly back on its feet and working furiously to keep up with the renewed demand.
Pages
Click here to see the published article.