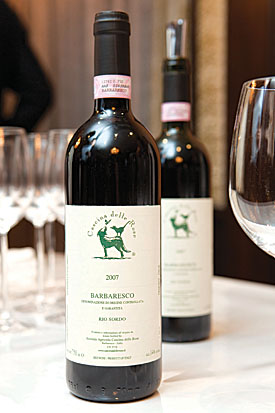 Italian wine is not as well understood in Hong Kong as it should or could be, according to Berry Brothers & Rudd Hong Kong Managing Director Nicholas Pegna.
BBR wants to help change that, and is starting with the wines of the Piedmont region and the Nebbiolo grape.
"Too many people here think only of the famous names from Tuscany – the Super Tuscans – and aren't familiar with the regional wines enough," he says. "With regard to Piedmont, I think people understand 'Barolo' and 'Barbaresco' as labels, but they are not really that familiar with the style of wine that Nebbiolo produces."
Piedmont is Nebbiolo's home territory in the way that Burgundy is Pinot Noir's, and comparisons between the regions are easy to draw, according to BBR's Italy based buyer David Berry Green who now lives in Serralunga d'Alba, about 60km from Turin.
"Piedmont is referred to as the Burgundy of Italy whereas Tuscany is the Bordeaux, and it's much more about the brand," says Berry Green.
Tuscany's signature grape is Sangiovese, which is to that region what Cabernet Sauvignon is to Bordeaux.
Piedmont's Nebbiolo, like Burgundy's Pinot Noir, has a reputation for being idiosyncratic, even difficult.
"Each village has a style and an expression of Nebbiolo which, like Pinot Noir, is a pernickety grape, hates heat, prefers the morning sun, and produces its finest fruit on ancient Jurassic sea-beds rich in fossilised shellfish and limestone," Berry Green observes.
Also as in Burgundy the best wines come from small estates and special individual parcels of land, and are made by families who in many cases have been involved with the region's wines for generations.
Berry Green has brought representatives of some of the houses with which the company has forged an alliance to Hong Kong, including Cantina Bartolo Mascarello, Chiara Boschis, Cascina Delle Rose, Cascina Fontana and Giovanni Rosso, with all of whom he has established relationships for BBR over the past five years.
Of the best known wines of the region, Barolo is a DOCG wine made 100 per cent from Nebbiolo and is generally agreed to be both its most powerful and most nuanced expression. Barbaresco, also a DOCG and produced in a nearby area of the Langhe, is likewise entirely Nebbiolo and also enjoys a high if not quite so elevated reputation.
"There needs to be more education work done on the wines of Nebbiolo in terms of Langhe Nebbiolo and Nebbiolo d'Alba," says Berry Green.
"Nebbiolo d'Alba is produced outside the Barolo and Barbaresco areas whereas Langhe Nebbiolo is effectively a second wine of Barolo and Barbaresco. Again these are two terms that are quite confusing with the trade as it stands."
The thinking is that if people become familiar with the great wines of Piedmont by understanding the grape with which they are made, a more detailed knowledge of a complicated region will be easier to acquire.
As for Barbera, a well known grape which is also native to Piedmont, Berry Green is dismissive.
"Some would say that Barbera is a table grape. It hasn't got the same distinction as Nebbiolo."
Click here to see the published article.