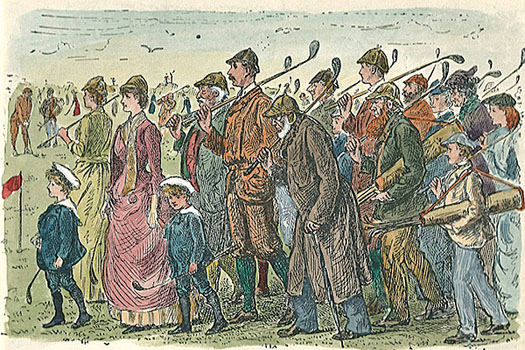 Failing to benefit from his touch of good fortune, a double bogey at the last saw him tied him with Martin on a two-round score of 176. With the 18-hole play-off delayed until Monday because of Prince Leopold's driving-in ceremony on Sunday, followed by an exhibition match involving Old Tom Morris, Strath received the unwelcome news that a formal complaint had been lodged by the amateur he had struck on the leg. Arguing the ball would have travelled beyond the green and onto the road beyond, the irate hacker wanted him penalised or even disqualified. Arguments went back and forth throughout Saturday evening. Unable to make a decision the officials decided to ask a former R&A captain, George John Whyte-Melville, to rule on the matter. Unfortunately he was attending a banquet in the town with the Prince, so it was decided to defer any decision until after the play-off had taken place.
Strath was incensed and refused point blank to take part fully aware that even if he beat Martin, he could lose the title on a disqualification. Whyte-Melville, who heard of Strath's comments, was in no mood to be embarrassed by a lowly golf professional and presented Strath with an ultimatum. In simple terms, if Strath did not turn up on Monday, Martin would be declared the winner.
The noon deadline came and went with no sign of Strath; minutes later Martin was declared the winner but not before being asked to walk all 18 holes accompanied by his caddie and full set of clubs. Despite being awarded second place prize money, Davie kept to his word and left St Andrews for good. Taking up the job of 'Keeper of the Green' at North Berwick, some praised his principled stand while others criticised his stubbornness. Whatever the reality, his disqualification heralded a tragic downturn in the life of the headstrong Scottish professional.
Affected by the death of his 30-year-old sibling Andrew from consumption in February 1868, Davie began to show the same deadly symptoms associated with tuberculosis exactly a decade later. Living in close quarters in their cottage in North Berwick, he became concerned this highly contagious illness would eventually infect his wife Ann and two infant children, Ronald and Daisy. With the miracle cure of penicillin decades away, the only option available to him was to escape damp, rain-blighted Scotland and travel to the other side of the world and the drier climate of Australia.
Pages