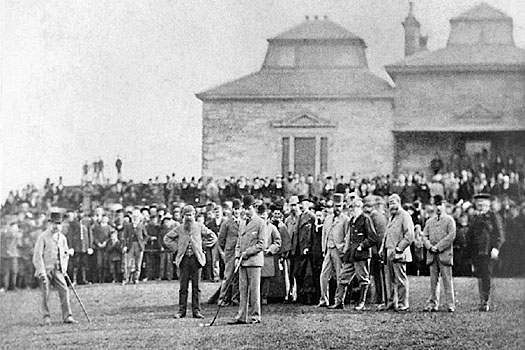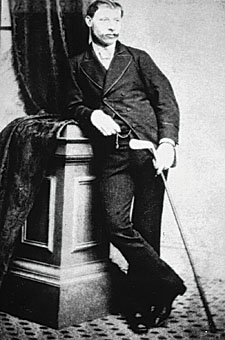 Played over two rounds in one day, it was only the second time The Open had been played over the Old Course - the first being in 1873. Scheduled for the 30 September, 1876, nobody could have predicted what a chaotic affair it would prove. Held the same week as the R&A's Autumn Meeting, the 'Auld Grey Toon' was teeming with visiting golfers from all over Scotland - many of whom had come to see Prince Leopold, the fourth son of Queen Victoria, installed as club captain that same week.
It was against this frenzied excitable backdrop that Davie Strath and 34 other competitors teed off on Saturday morning. Little more than a sideshow to the royal driving-in ceremony the following day, Strath delighted his many supporters with a superb score of 87. Tied for the lead with fellow professional Robert 'Bob' Martin, they were only two players to break 90. Then all hell broke loose. In one of the most bizarre incidents in Open history, the R&A forgot to reserve the first tee for the afternoon round. Forcing the competitors to slot in between groups of visiting amateurs Strath, like many of his rivals, found himself held up on virtually every shot. "The links were so crowded by golfers so as to interrupt the play," reported the Glasgow Herald. "Often several of the couples had to stand waiting before they could play up to the putting greens ..."
On the 14th Strath had the miss fortune to knock out a local furniture upholsterer named Hutton playing in the opposite direction. Visibly shaken Strath hung around long enough to see his victim make a full but somewhat dazed recovery but by the seventeenth his patience finally snapped.
In an incident that would define the 1876 Open Championship forever, Strath sliced his drive into the Railway Masters Garden to the right of the hole. Vaulting the stone wall that borders the modern day Old Course Hotel, he pitched it forward leaving himself a full wood shot into the green. Aware that a 5-5 finish would give him a round of 89 and victory over the already finished Martin by a single shot, Davie found himself kicking his heels in frustration as the hackers ahead took an age to putt-out. Playing his third before they had fully left the green, his downwind approach took a large hop forward and struck one of them on the leg. Preventing it from bounding over the green and onto the road beyond, Strath seemed oblivious to the incident as he two-putted for a fortuitous bogey five.
Pages