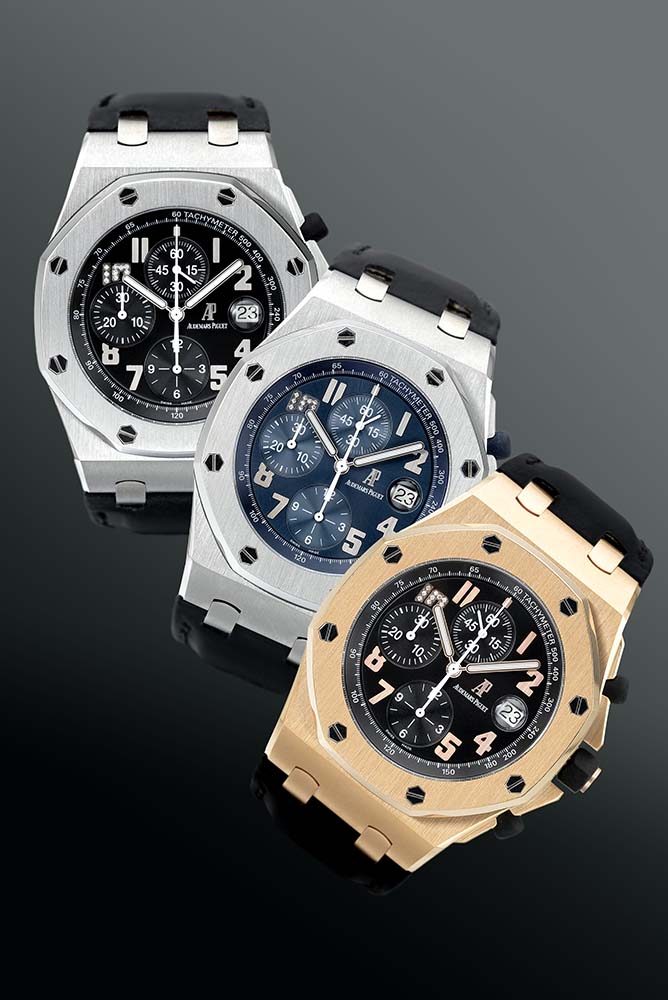 HIP-HOP HOROLOGY
CM: You led the dancing last night! As well as golf, music is certainly a passion you've brought into AP, especially hip-hop.
FHB: Yeah, Jay-Z, all these guys. When I became friends with Jay, and he wanted to make a watch with us. I said, "I'm going to sell that to the board." That's going to be: sell a rapper, a hip-hop guy, to our board in Switzerland!
So, I came to Switzerland with two pictures. A picture of Jay-Z with Prince Charles, taken a week before, and a picture of P.Diddy with William Lauder, when they made a deal with the fragrance. I say, "Guys, you have to understand. Hip-hop today is what jazz was in the '20's. It started in the black world, and became mainstream. This is what hip hop is today. Hip hop is listened by everybody. Black, white, yellow, pink. Everybody." "We should make this move." I say, "I want to make a Jay-Z Limited Edition," and they said, "Yes," so we made a limited edition Royal Oak Offshore that was only for the US. Not for the world. We made only 100 watches, and they sold it out in [snaps fingers]...
That opened so many doors for us. We got a younger audience that came to our world, because Jay-Z was mentioning Audemars Piguet in his songs. Beyonće as well, by the way. So we started to get into a completely different crowd, and a lot of athletes started to wear AP because of that, because of Jay. Before the games they were listening to Jay-Z's music, and Audemars Piguet became something. Still today people talk about it. There was one Chinese client yesterday who is in the music world here. He was maybe 28, 29. I got introduced to him yesterday. He said, "You know what? I wear AP because of LeBron James and I love what you guys did with Jay-Z." This is why I would listen to Jay-Z forever, because of when we worked together. We worked together three years. A true gentleman, and you really hope he does a lot of tours.
Pages
Click here to see the published article.