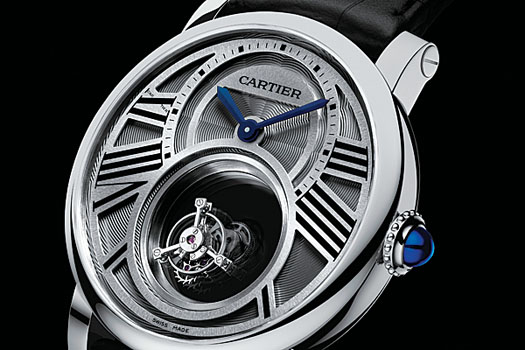 A magician never reveals his secrets, because letting his audience know what's behind the ruse tend to make them lose their impact. For watchmakers though, it's quite the opposite. Innovations and breakthroughs that seem mechanically impossible become even more gasp-inducing once the technicalities are explained, because these prove that research, painstaking craftsmanship and long hours of debate were put into the creation of that timepiece. In fact, when it comes to great watchmaking feats, there are no shortcuts.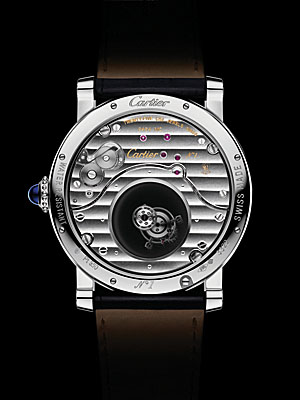 This year, with a theme that's centred on magic and mystery, Cartier presents a rather dramatic fine watchmaking collection, highlighting two mysterieuse watch models; a perpetual calendar and jumping second time zone; and an extension of its Calibre line.
The Rotonde de Cartier Double Mystery Tourbillon is certainly the headliner for 2013's novelty presentation. Inspecting the watch, you'll see a gaping hole on the dial where a flying tourbillon turns on its own axis every 60 seconds, and a titanium cage performs a second rotation every five minutes, but with no visible connection to the movement. We've seen flying tourbillons before, but this one looks like it's suspended in mid-air; a convincing illusion of mystery timepieces that's very entertaining to watch in action. What the manufacture has done is to attach the carriage of the tourbillon to a sapphire crystal disc with anti-reflective finishing to make it seem like its floating, where the disc then acts as a large gear wheel that performs the turn every five minutes.
The 45mm watch comes in platinum, with a sapphire crystal caseback for a see-through effect. Forming a figure eight on top of the tourbillon is a subdial for the hours and minutes, and on the sides of the slate-coloured dial, are Cartier's signature Roman numerals.
Pages
Click here to see the published article.