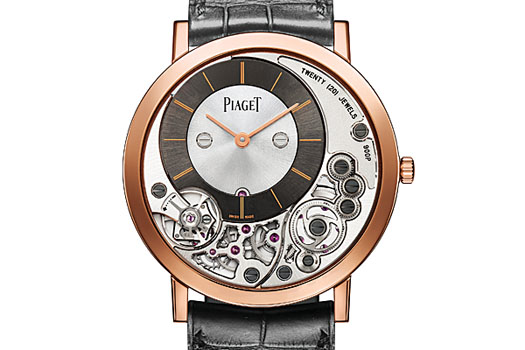 Neither entirely a movement nor exactly a case, the Altiplano 38mm 900P is the world's thinnest mechanical watch. Merging the hand-wound calibre with the case elements, it is designed as a single entity in order to achieve record-breaking slenderness at just 3.65mm thin. Representing a crowning achievement in over half a century of virtuoso skills displayed in the realm of ultra-thin watchmaking where Piaget reigns supreme, it conveys the excellence of the two integrated Manufactures run by the Maison. Places where the skills of the watchmakers, case constructors and designers converge in giving life to this masterpiece of reliability and precision.
2014 is an important year for Piaget. The Maison is celebrating its 140th anniversary and marks the occasion by launching a model that is set to defy the conventions of ultra-thin Fine Watchmaking for many years to come: the Altiplano 38 mm 900P. While clearly geared towards cutting-edge innovation, it is also a nod to history, since it gets the 900P part of its name from Calibre 9P, which was the first ultra-thin hand-wound movement made by Piaget in 1957. That particular mechanism measured just 2mm thin and sealed Piaget's destiny in the field of ultra-thin horology. By 1960, Piaget was ready to set a first record with its Calibre 12P, the world's thinnest automatic movement at just 2.3mm. The following years witnessed a spate of new slimness records in the fields of hand-wound and automatic models, with or without horological complications - like Calibre 600P, the world's thinnest hand-wound shaped tourbillon movement; and 1208P, an automatic movement that is also the thinnest in its category, to mention just a couple of these feats.
Pages
Click here to see the published article.