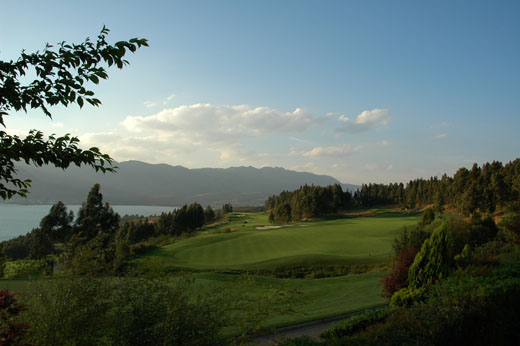 Think of Pebble Beach and one immediately conjures up images of Pacific rollers crashing onto the rocky cliffs of the Monterey Peninsula. Take a trip over to Gleneagles and memories of the wild and dramatic scenery of the Perthshire countryside will last a lifetime. Play a round at the Golf Club Crans-sur-Sierre, host of the annual European Masters, and be blown away by sweeping vistas of the Swiss Alps. Without a shadow of a doubt, the most memorable courses are influenced by their geographical surroundings above anything else. Which is why, in my eyes at least, Yunnan province is China's premier golfing destination.
While other places on the mainland might boast a superior number of courses or brag about easy access to the country's financial and commercial hubs, the clubs of Yunnan, and those located close to the charming culture-rich cities of Kunming and Lijiang in particular, remain refreshingly quiet on the marketing spiel front. Like most great courses there's a reason for this: they already know they're among the best that their country has to offer; there's really no reason to make a song a dance about it.
Aside from its stunning mountain landscapes, Yunnan's appeal, especially to golfers, is largely credited to its moderate climate. Kunming, the provincial capital, or the "City of Eternal Spring", as it is commonly known, offers near perfect golfing weather year-round. The fact that all the courses here are all decked out in silky-smooth Bent grass just adds to the appeal.
But Yunnan has other advantages. The region is one of the most ethnically diverse in the country, which means, like in most places were cultures collide, both fantastic cuisine and a striking-looking population. The air is the cleanest in China; the vegetation is the most diverse. This is, simply put, travel at his most memorable.
Pages
Click here to see the published article.