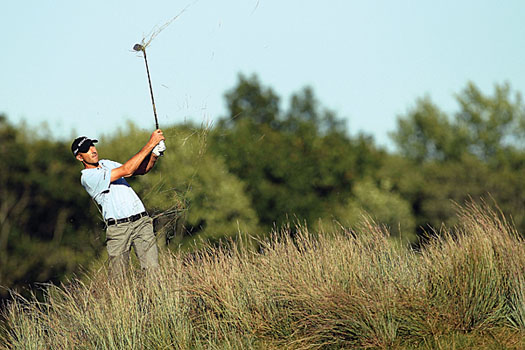 Geoff Ogilvy is a man on a mission. The 2006 US Open champion is without a win in over two years and has, at the time of press, yet to receive an invitation to the Masters Tournament in April. Ranked outside the top 50 in the world (the magic number that would get him a berth at Augusta) for the first time since before that memorable afternoon at Winged Foot where he outlasted both Phil Mickelson and Colin Montgomerie, Ogilvy and his young family have moved back to Arizona for the good of his game.
The tall Australian says he isn't unduly worried about his recent form – he only missed two cuts in 2012 – but in leaving California for Scottsdale and Whisper Rock Golf Club, a favoured haunt for many PGA Tour pros, the outspoken Ogilvy, who started his own course design business with the respected architect Michael Clayton in 2010, is looking to scale the same kind heights that earned him not just a Major but also three World Golf Championship (WGC) titles.
Statistically, it's difficult to assess why 2012 was not as successful for you in comparison to past years. Have you been able to pinpoint anything in particular?
I played well enough physically to do quite well. I only missed a couple of cuts, I played well at The Open [tied for 9th] and featured at the PGA Championship [tied 11th], but I was always just two or three shots away. It was always like that. I just think that maybe I've been practicing too much at home and not playing enough holes. Every day I walked off, I thought I'd probably played better than the score I had that day. Not a lot, but it's a pretty fine line between finishing 10th, 15th, 20th and winning tournaments.
It doesn't really show up in the stats but when you're playing your best, even when you hit a bad shot, you manage to hit it to where it's an easy par. You might hit it 15 feet right of the pin as opposed to pulling it into a bunker and not getting it up and down. That's not going to show up in the stats.
You don't fix that with more time on the range, you fix that playing more holes. Whether that's at home with friends or tournament holes, I probably haven't been doing enough of that. All I've been doing the past few weeks is play rounds of golf so hopefully it works. We'll see.
Pages
Click here to see the published article.