Kuo's enthusiasm is shared by his charges. 10-year-old Shi Yuting, who has dominated her age group in the girls' competition winning five of the six legs ahead of November's final, beams with enthusiasm as she charmingly discusses what she likes about the junior championship tournaments.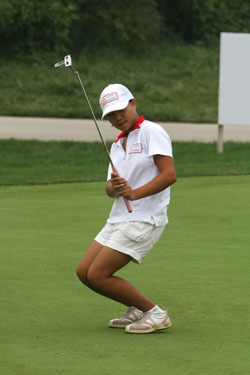 "They're really great. We go to courses that are very challenging. They give us a chance to play against each other, against people the same age," she says.
Unlike some of the other kids her age who profess to enjoy the fun games that have been introduced after the first of the two nine-hole rounds the younger players compete over, Shi's focus is noticeably more on the tournaments, and she has little doubt why she's outperforming her rivals.
"I practice every day. Every morning I got to school and then I practice in the afternoon. And I play on the course twice a week," she explains.
Shi lives with her mother at the Huangshan school, while her younger sister and father reside an hour's flight away in Shanghai. There's a sacrifice involved for any child at that age to live away from her family, which she explains in some ways when discussing her status as one of China's most promising young golfers.
"Sometimes I will remind myself that I'm the best in China to cheer myself up," she admits, modestly. "There are so many other girls and it can feel like there is pressure, so I sometimes think about that to make myself happy."
But the approach of Kuo, seems to echo the child-friendly approach of the HSBC National Junior Championship, as Lv Zheng, the 15-year-old winner of the senior girls' group at Zhengzhou, explains.
"I like Mr. Guo very much." says Lv, resplendent in Scotty Dog earrings and a fringe nodding towards Emo, using the Mandarin pronunciation of her coach's name. "Mr. Guo is very kind. He's patient and he's taught me a lot of useful knowledge. He will scold me for not practicing properly or for not hitting my fairway woods far enough, but he presents his knowledge in a very simple and easily understandable way. He also has a lot of personal charm, so everyone enjoys working with him," states Lv, who was discovered by China Tour professional Cui Xiao-long, the day she first swung a golf club in Beijing two years ago.
Lv's testimonial in turn points towards a more modernistic approach. In Asia in general, education to this day can still tend towards rote learning and discipline, but things are changing.
And as they are with everything in China, and in particular in golf, they're changing fast.
Pages
Click here to see the published article.