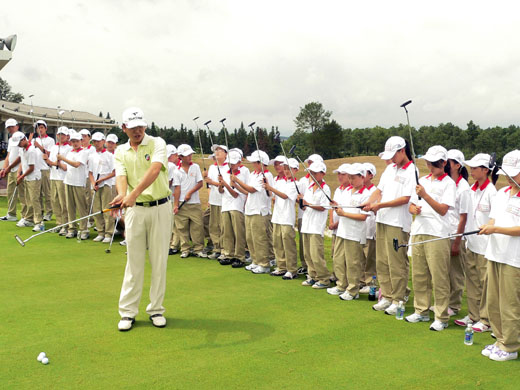 Three of the tournament's winners—Lv Zheng, Zhang Yucong and Shi Yuting— are among the 12 pupils at the school based at the Huangshan Pine Golf & Country Club in Anhui province, which is believed to be one of only three full-time golf boarding schools (along with ones in Nanshan in Shandong and at Mission Hills in Guangdong) in China.
"We're following the format of the Australian golf schools. The children do their academic every morning and then practice their golf in the afternoon," explains Kuo Jia-kuei, the teaching professional from Taiwan who coaches the Huangshan pupils.
Their success is, according to HSBC's Group Head of Sponsorship Giles Morgan, indicative of how the bank's partnership with the CGA is promoting golf's development in China.
"The media coverage the HSBC National Junior Golf Championship is generating in China has heightened awareness of youth development within the golf industry. You can bet your bottom dollar that Huangshan's success and the success of any other similar schools will not go unnoticed among the other golf course owners and you can guarantee that many of them are turning their attention to training their own junior players too," Morgan says.
"The primary objective of the HSBC Youth Golf Program was to create a sustainable framework around which the CGA can evolve and develop the sport. But we knew creating a legitimate mini-tour for junior golf would have the secondary effect of increasing the enthusiasm for junior development within the golf industry. "
In turn, Kuo Jia-kuei says Huangshan's production line—they've already provided Liu Yu-xiang to the China national team—would grind to a halt without the tournament structure of the National Junior Championship.
"The tournaments are like professional events. They're very good," Kuo says.
"It teaches the children the 'E.S.P.' (extra sensory perception) of golf. It's very important. The atmosphere and the environment of tournament play, the experience is very important. The events are very good for the players because they can see step by step how they are improving. They become more focused on their goals in training and understand how their development has to be step by step too. The environment is also very good for the children because it makes them feel like real players. When they return after the tournaments they are more enthusiastic about their training."
Pages
Click here to see the published article.