2007
Jiménez's Double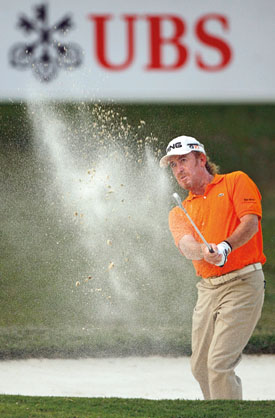 The 18th hole strikes again as Miguel Angel Jiménez claimed his second Hong Kong Open title after both he and playing partner Robert Karlsson both made a hash of Fanling's famous closer in front of record galleries.
With the pair tied the lead, Jiménez found the left side of the putting surface with his approach, while Karlsson – who had lead the tournament by four with only seven holes to play – came up short with his second. Then disaster. The tall Swede, one of the most consistent performers on the European Tour that year, fluffed his chip into the bank in front of the green before pitching up close to the hole. Jiménez, who had putted down to within six feet of the hole, then yanked his putt for victory wide of the cup. With a five-foot putt to force a play-off, Karlsson then managed to stab his own effort wide of the target and a stunned Jiménez became the first multiple winner since Frank Phillips in 1978.
"It's very nice to win the tournament again, but I feel for Robert and the way he finished," said Jiménez, who had a trademark cigar wedged firmly into the side of his mouth. "He played so good all week and then ... it's not the best way to finish."
It wasn't the prettiest end to a tournament but the 2007 edition was certainly not short of drama.
Pages
Click here to see the published article.