2011
Rory, Finally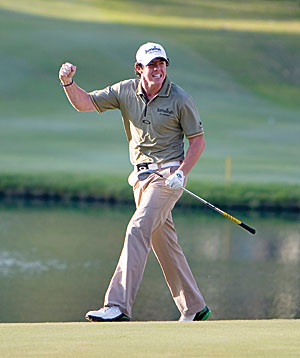 Rory McIlroy loves Hong Kong, and Hong Kong loves him, so it was with no small amount of pleasure to see the Northern Irishman finally seal his first win on Fanling soil with one of the greatest finishes in the tournament's history.
After opening with a superb 64 in blustery conditions, McIlroy failed to make much headway over the next two rounds, carding lacklustre rounds of 69 and 70 to fall three shots off the pace set by Alvaro Quiros, the long-hitting Spaniard. But the final round was a different matter.
While Quiros struggled early on Sunday to fall out of contention, McIlroy was magnificent. Fending off the twin challenges of Sweden's Peter Hanson and playing partner Grégory Havret of France, the 22-year-old reached the 18th hole with a slender one-shot lead. Electing to go with a "hard three-wood" into the wind, McIlroy tugged his drive ever so slightly but it managed to defy science and instead of bounding out-of-bounds, kicked right and into a good lie in the rough, some 95 yards from the flag.
Not that the tournament was over. Catching his pitch maybe a groove to high, McIlroy's shot found the treacherous greenside bunker. With Havret struggling to save par after finding trouble off the tee, the world number two knew that an up-and-down would clinch the title he so craved.
But trust McIlroy – coming off the most impressive season of his career – to finish with aplomb. Splashing delicately from some distance below the level of the green, the shot landed softly and trundled unerringly – brilliantly – into the bottom of the cup to complete a marvellous 65 and a two-shot victory. Flinging himself into a celebration quite unlike any we have seen from him do before, McIlroy pumped his fist and let out wild screams of joy. It was simply amazing stuff.
"I wanted to win this tournament so badly since that play-off in 2008, but finally, to get this trophy in my hands, is very special," said that year's US Open winner, who first visited Hong Kong in 2005 when he played the Faldo Series International Trophy. "I've loved this city, I've loved this golf course, I've loved this tournament ever since I got here ... this is definitely one of my favourites."
Pages
Click here to see the published article.